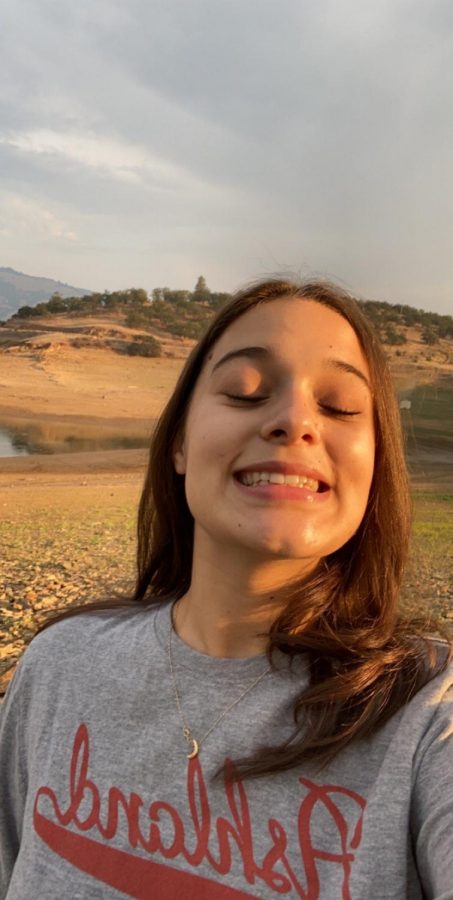 Last night, as I settled in to watch the Hunger Games, and observed the strong character Katniss standing up for her sister and offering strength to others, I immediately thought of my Interview with Cammie Pescetti, and I remembered her mentioning how much she enjoyed the film.
I sat down with Cammie on Thursday, October 4, and talked with her about her interests, hobbies, passions and hopes for the future. She told me all about her family life and what inspires her, but the most crucial thing I took away from our conversation was how empowered she is by other incredible women, and how looking up to these figures has impacted her outlook on the world. It has shaped who she is today, and who she wants to be moving forward.
Cammie and I began our conversation by getting to know each other. When arriving on the subject of school, she passionately shared about the Women's Literature class she took last year with Jamie Lungren. In this "life changing" class, Cammie learned about numerous badass women dating back to the 1800s. She read a book called The Poisonwood Bible. She told me, "That class and book changed my life. Ms. Lungren has been my favorite teacher." The class inspired her to focus on her own personal growth and self-worth this year. Cammie opened up about how after reading about these inspirational women, she realized that she did not need anyone else to make her happy.
During the interview, Cammie and I also talked about her love of writing and the opportunities that it has brought her. She is entering her second year of Rogue News and continues to love it. She was even offered an internship with the Ashland Chronicle this spring. Cammie hopes to find joy in writing for Saturday Night Live someday and have the opportunity to collaborate with other writers on such a superb project.
Cammie also has a love for the performing arts. Although she dabbled in acting in middle school, she discovered her true love is for empowered female roles in acting. She loves watching movies and shows, particularly The Hunger Games, Euphoria, The Morning Show and Little Women, for their abundance of strong female leads and characters. When asking what she appreciates about watching films, she replied, "I really enjoy watching character development throughout an actor's career, and how they are able to fully embody their role."
Lastly, Cammie and I talked about her life at home. She talked about how close she is with her mom, and how she has grown up with such a positive role model in her mom. After being an only child her entire life, Cammie now has a younger sister named Elsie, who is two. Cammie told me about how living with a toddler, after so long on her own, has been difficult and a big change, but that her sister has also brought her immense joy.
After speaking with Cammie, I thought it was empowering how she now has the chance to be her sister's role model and be that person that she looks up to. It was evident how much affection Cammie has for her family, and it was also evident how far her personality, kindness and various strengths will take her in life.
Cammie Pescetti, Writer
Nov 19, 2020

My Mom Married a Republican

(Story)