Artist Profile: Kendra Farber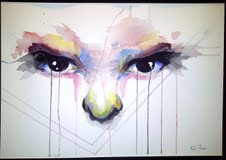 Kendra Farber falls into many categories other than an artist. The AHS junior is an ambitious writer, an enthralled reader, an avid listener of music, a collector of vintage hats and also a painter. The term artist is only a heading for all of her favorite talents.
Kendra started making art when she was only a toddler. For her it was a source of entertainment and also as a voice. She cites her grandmother as her greatest inspiration and teacher. Her grandmother, who was a well known artist, drew Kendra's interests of art and helped teach her new techniques with pastels and oil paints.
This year Kendra began experimenting with watercolors. Entirely self taught, the resulting product is intense. Contrasts of light and dark shape into stunningly realistic images. Faces tight with emotion spill onto the white paper. "The art I make represents human life and I try and capture the ethereal beauty of it, may it be fleeting."
Shaping her art is music. It is imperative that she listen to it when she does art. With an outcome in mind, she picks a certain type of music to influence her end product. Also affecting Kendra's art is the weather. She channels all of the emotions bundled in the dreary rain and grey colors of Southern Oregon into her art, where it comes spilling out simply as the emotions appeared.
The emotions Kendra conveys in her art are simple. "I just want people to stop from their hectic lives and to stand in a bubble of tranquility for a moment. All sounds are muffled and they let their eyes loose a bit of focus." She says. Her art does just that. The attention to detail and the varying use of overlapping colors resemble photography. The viewer stands in awe, trying to imagine the steady hand and creative mind it took to create such pieces of art. "I always imagine some sort of inspirational piano piece going in the background" she adds.
For the future, Kendra sees art as only a hobby as her inspiration only comes in random spurts.
And although she may not be pursuing a professional career as an artist, she does stand as the current vice president of the National Arts Honor Society at AHS and is in place to take over as president next year.
Kendra appreciates the recognition of the talents of young artists in the Ashland community. She will be participating in the First Friday Art Walk this March. You can go view several pieces of her work at Enoteca Wine Tasting and Bistro on the Plaza this coming Friday.
Leave a Comment