Kairo Holbert: Mr. Grizz
Kairo Holbert is the Mr. Grizz contestant to beat. This flamboyant junior has been asked to the charity pageant by leadership each year until, now, he finally has agreed to participate.
Kairo's hobbies revolve around jamming. He likes playing guitar, electronic stuff, sequencers, samplers, and percussion. His current band, That Does, is based in Chico and consists of "two guys who travel up to Ashland all the time." He is also the manager of the Music Coop. Along with jamming and managing, Holbert said his favorite activity in the world is "sleeping because sleeping is really cool and I like sleeping." In summarizing his hobbies Holbert noted, "I like cooking and strolling."
From the outside he does not appear to be the warm hearted, caring, and individualistic man he is, but upon interviewing him it became immediately clear. Holbert said he decided to participate this year because "leadership asked me to do it every year and this year I had time — plus I like babies."
Holbert has a true desire to win this year. He said his favorite part of it is the group dance which he thinks is "pretty fun." Along with the dancing, he also said he enjoys participating because "it feels good to be working for charity." His fundraising goes to paying for medical expenses of premature babies. He said "when I learned about babies whose feet are the size of my thumb, I felt compelled to help them."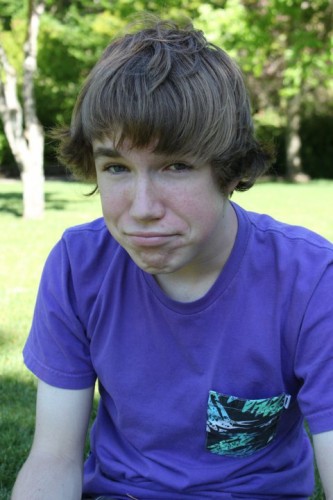 Although Kairo Holbert is a strong contender, he has been subject to some recent criticisms from his opponents. Quinn Teece said "Kairo is always late." Holbert responded to the critique saying "I'm not always late. I'm late to assemblies, but early at dance practices. So all in all, I'm only averagely late."
Holbert expressed that he strongly believes he deserves to win because "I'm the most like a bear of all the guys, none of the others are bears at heart." He also commented that a big thing that sets him apart from the competition is that "unlike the other kids, I have the antidote."
In terms of stats, the junior class is not doing well. Holbert's opinion of the situation is that "freshman and senior class seem to be doing well. The junior class is really the only one not doing well." Holbert believes in a more holistic approach in choosing who is winning though. He thinks he has many traits that set him ahead of the pack like his sense of humor and his natural good looks.
Holbert said, "I like to call myself the elevator because I raise the level of competition," and by Friday night, we'll see how high it was raised.
Leave a Comment