Maslow Project
The Maslow Project is a non-profit organization that helps homeless children and youth. They offer supplies like clothes, food and hygiene products to those who can't get them and try to take their focus off basic needs in life and put it towards education for these children. The organization believes once a child's basic needs are met the parents can focus on working or getting employed. The Project is based on Maslow's hierarchy of needs, which is a pyramid of qualities and necessities of life.
In Ashland Jason Winslow is the liaison for the Ashland School District. Already he has had emails, phone calls and questions from teachers about students who may need help or could lie under this category. He comes in every Tuesday and Friday to meet with students to see how they are doing. Every two weeks food and hygiene products are given to students and every thirty days clothing is given. "One thing that I have noticed is that in Ashland there are a lot of people who care; I have teachers and principals and counselors calling me up on an almost daily basis," Winslow says.
Winslow is attempting to connect with the community to offer more options for these people. Uncle Food's Diner every Tuesday serves people who qualify for help. In Jackson County there have been around 2,000 people and family units who qualify for the program. In Ashland last year 100-125 youth were identified as homeless or at risk of being homeless.
As a student, there is one simple thing to be done: if there is a friend who might need help, or you overhear a conversation where someone is talking about their hardships, tell them about this opportunity to get help. "We like to think as adults that we are open and 'hey kids come talk to us lets rap a little bit,' but we are adults and it's kind of embarrassing to talk to us, so if you are a student and you hear a friend talking about some hard stuff, say there is this place specifically in Ashland High School to come and drop by," Winslow explains.
Even if students don't qualify for the program there are many others out there and The Maslow Project can help connect students with those other programs.
Leave a Comment
About the Contributor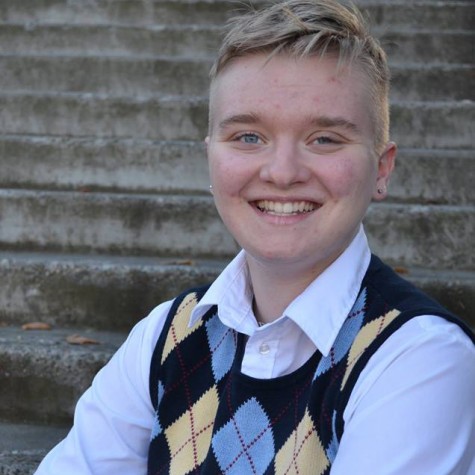 Regina McGough, Editor-In-Chief
Regina is a senior at Ashland High School. She spends most of her time on school work but enjoys reading science fiction and fantasy novels. Her family...