When a high schooler hears the word "final" it is usually synonymous with the words "test" or "project." However the returning class of Women's Literature, the first semester final was speed dating. Speed dating is where single people sit and meet other singles and have five minutes to make themselves appealable. The assignment was to read a biography about a woman. Jamie Cope, the teacher of the class said she didn't know at first what the project after the book was going to be, her original idea being a presentation.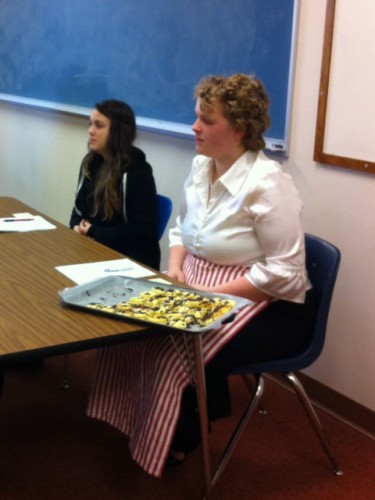 She had learned the speed dating method in one of her teacher classes. "I thought it was one of those things I would never use, but it just seemed perfect for this," Cope says. After reading the biography, which students were given several weeks to do, they had to think and figure out how to act like their character. Some students dressed as their character or held accents throughout the class. One student even baked cream puffs to bring the aura of Julia Child.
The class was split in half to maximize the amount of time for each session. Sessions were five minutes long and students asked their two prepared questions to start the conversation. The experience was phenomenal, the room was boisterous and excited. Chatter exploded from the classroom, each and every person was happy to be there and excited to try out their character.
Principal Zundel visited the classroom and watched single conversations amongst the students. Walking into the room she was smiling and continuously laughing at the conversations going on. Interesting pairs would converse such as Maya Angelou and Malala Yousafzai.
The requirements were to stay in character and answer each question asked as accurately and thoroughly as possible. This was difficult for many because of the match ups, for example Eleanor Roosevelt's biography didn't have anything about speaking to a snarky teenager so staying in character was difficult.
The final might seem silly but several students had to research specific facts to prepare for their act. "I think more people researched for this than if I had assigned a presentation," Cope explains. Not only did students enjoy themselves but everyone got a one hundred percent on the project.