Tattoos: Ink About Them!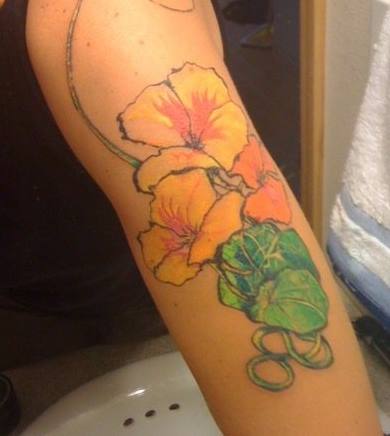 You may think that tattoos are a new fad. It sure seems that way, anyway. When you think of tattoos, do images of burly, scary men or tough punks with strange piercings come to mind? Well, when you really start to think about it, it's hard to ignore that tats are becoming more common in our culture. And it's hard to consider them any sort of "alternative" when nearly every fourth adult you see has one.
In reality, tattooing is an ancient art form. Prehistoric, even. A skeleton found preserved in a glacier in 1991 was dated back to 3300 BCE, and had a total of 57 tattoos. Several other well-preserved bodies from all through history have also been found with tattoos, proving that cultures across the world have been tattooing for centuries.
It's a common concern in this day and age, though, that respected professionals, like teachers or doctors, might have tattoos. Perhaps this is because tattoos are still seen by many as frightening or unsanitary, which they are not. Or perhaps those who have tattoos are simply considered to be bad influences on the people they work with, especially students. But there are several teachers at the school who already have tattoos! And these teachers are all wonderful people, and great influences on the kids that they teach.
Nikki Thommen, for example, whose tattoo is featured above, designed the drawing herself. The flowers are nasturtiums, a flower that she used to grow and pick with her dad in the summers. Although he hated tattoos, she says, she got this one in his honor after his death in 2008.
Thommen says that her father was a nurturing spirit and appreciator of beauty, and that, although he may not have approved of the tattoo, he would have loved the drawing, as it had special meaning to the two of them. Her tattoo is a very personal symbol for her, and she made the decision to get it after careful thought and planning.
If you are planning to get a tattoo, you should definitely consider what exactly you want a long time before you get it. keep in mind your financial situation, as well as what you plan on doing in the future. Unfortunately, tattoos are still considered unprofessional in certain work environments, especially in very visible places such as the face and neck. While our society is constantly evolving, making this subject to change, the professional world is something that has to be taken into account when making all kinds of decisions.
On the other hand, it is not only the responsibility of our generation to cater to earlier ones, but also to determine our own expectations for the future, and what we deem appropriate. As time goes on, tattoos, piercings and other styles considered "alternative" might become more accepted in the workplace.
Karl Kemper, the athletic director, has a tattoo as well, a Yin and Yang sign on his ankle. Kemper, who is 48 now, got this tattoo when he was 32, in honor of his father, on the fifteenth anniversary of his death. Kemper says that his father was his hero, and the most balanced person he had ever met. He says that he tries "To live in a way that would make him proud." Though his father was also not much of a tattoo guy, he thinks he would have felt honored to have that permanent and meaningful memorial.
Kemper's tattoo was certainly very planned and thought out. When asked for advice he would give to people planning to get a tattoo, Kemper says "Throughout your life, your views change, and what you stand for today might be different than what you stand for as an adult," and encourages people to wait until they're older to make the decision. Finally, he also added that he had gotten another, regrettable tattoo when he was 19, and it has since been removed, although he didn't specify what or where.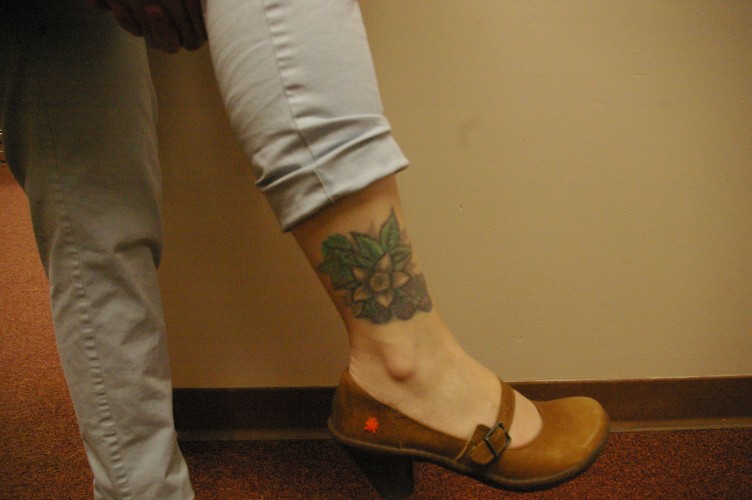 Another teacher, Jamie Cope, provides an important warning to those, especially students, considering getting tattoos early: Make your own decisions! When Cope was eighteen, her family had a tradition, in which all the girls in the family got tattoos. Although she was unsure and undecided, Cope went in to a tattoo parlour with a vague idea of what tattoo she wanted. Blackberries were important and symbolic to her, so she had the artist draw up a design to go on her ankle.
The main problem with the picture was that it was too big. She asked if he could make it smaller, but he insisted that he couldn't without losing important details. She reluctantly agreed to go along with his design anyway, though, and wound up with a tattoo she wasn't completely happy with.
If you are planning on getting a tattoo, please think carefully about exactly what you want, and why. A tattoo doesn't necessarily have to be symbolic or have a long story behind it, but it definitely has to be something you know you can tolerate having on your body for the rest of your life. Body art is a pretty medium, but please remember that tattoos last forever.
Leave a Comment