Ashland's New Water-Use Limits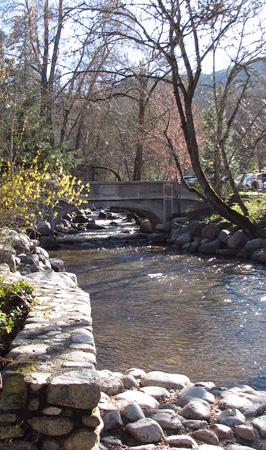 The daily 90 degree summer days of Ashland makes residents feel like they're living in a domesticated paradise; the sky is blue, the sun hot. On hot summer days like these, you're going to want to cool off. It might be by turning on your sprinklers in the front lawn. Or maybe taking a dip your pool. Or making a trip over to your neighbors pool, or setting up a slip and slide, or maybe simply just taking a really nice cold shower. Summer in Ashland is similar to paradise, as long as you can find a pleasantly cool source of water to refresh yourself in.
Well, this summer, that may not be an option.
It's well known that that this past year there was a disappointing lack of snow on Mt. Ashland.  Unfortunately, Mt. Ashland, and the rest of the Siskiyou Mountain Range, is the water source for the city of Ashland. Not enough snow means not enough water. Not enough water means we're going to have to undergo water conservation.
The last time Ashland underwent curtailment was in August of 2009, during the drought. In May of 2009, the snowpack in the watershed had been 41 inches. This year, the snow pack present in the watershed measures up to just 9 inches; an alarming new all-time low.
Ashland City Administrator Dave Kanner recently voiced his concerns in the Daily Tidings. Kanner explained that if residents cannot keep up the job of conserving water, curtailment could start as early as June 1st.
If you thought that was the bad news, the worst is still to come.
Residents who use water above the new limits will be charged 3 times more than the regular rate for their excess use of water. This will come into effect in the first three of four stages of mandatory curtailment. If residents really can't control their water usage, they may be charged 10 times more than usual rates in stage four of curtailment.
As of May 7th, Jackson County has declared itself to be in a drought .
So, people of Ashland, remember to be courteous to your neighbors, as well as to your bank account. Ask yourself this; do you really need to take a 45 minute shower? Let's conserve water!
Leave a Comment