TV Shows to Watch in 2015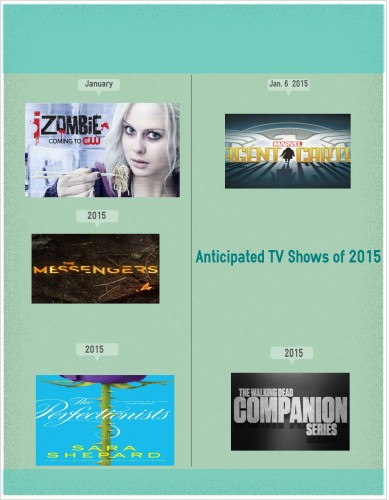 The 2014 year is almost over, and that means new TV shows coming out in 2015. According to the New York Times, the average American watches more than 34 hours of television per week, which is about 5 hours per day. Here's some anticipated tv shows of 2015.
The Perfectionists (ABC Family) (2015)- "The Perfectionists" is a show based off of Sara Shepard's new novel. With Pretty Little Liars rumored to be ending after season seven, hopefully this show can replace its spot. The show is about five girls who live in Beacon Heights, Washington. The girls don't know each other but they have one thing in common: Nolan Hotchkiss. Nolan has done unforgivable things to all five of them, and they want to take him down. So they come up with a plan to kill him, but they don't actually plan on doing it. But then Nolan shows up dead. In order to put their lives back to normal, while not being found guilty, they must find his murderer.
IZombie (CW) (January)-  Liv Moore is a medical student, living an ordinary, organized, and flawless life. Until at a party one night, something bizarre happens. It's turns into a zombie feeding frenzy, and Liv gets bitten, and she turns into a zombie. In order to survive, Liv has eat brains, but it comes with a catch. Whenever she eats a brain, she also gets the memories of the person whose brain she ate. So now she feels like she owes it to the brain owners to solve their deaths with the help of a medical examiner and a detective.
The Messengers (CW) (2015)- A group of five die from the energy of a mysterious object that crashes down to earth. But then they are mysteriously brought back to life, and each of them have their own "superpower". It also turns out that the prevented an apocalypse that was supposed to happen.
Untitled Walking Dead Companion Series (AMC) (2015)- With many areas of the world not shown in "The Walking Dead", the creators of TWD thought people should see how the rest of the world is faring in this zombie apocalypse. The show is set in the Walking Dead world, but does not include any of the Walking Dead Characters. It takes place in Pennsylvania, with the main characters being two families. So far two characters have been cast. Frank Dillane and Alycia Debnam have been cast as brother and sister and the children of a guidance counselor. Dillane will be playing the part of a troubled teenager, while on the on the other hand Debman will play his ambitious put together sister.

Agent Carter (ABC) (Jan.6, 2015)-  "Agent Carter" will be premiering during the mid season finale of Agents of S.H.I.E.L.D., and will have a two-hour premiere. The show is about Peggy Carter (from Captain America), after Captain America is pronounced dead. It takes place in WW2, with Agent Carter becoming an Agent of S.H.I.E.L.D .

Leave a Comment
About the Contributor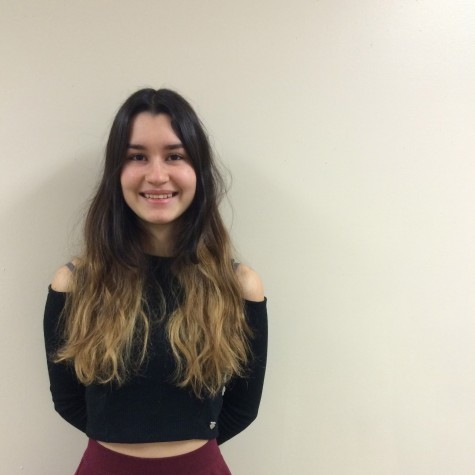 Milla.Goldsmith, Reporter
Milla Goldsmith is a freshman at Ashland High School, and is a member of Rogue News Online. She is involved with the Interact club and plays tennis. Goldsmith...