Tuesday Grower's Market
A Community for friends and family – how you support the economy and your own health
As student's lives progress, healthy eating becomes increasingly crucial. In recent years, an awareness of organic foods and local farming has grown on a national scale.
Local markets are the perfect place for individuals to share their work, and to build a community of people. Ashland itself has two markets per week, once the warm season begins. This selective group of vendors are doing their part to build a community within Ashland. These are people who support our locals, and are changing the world we live in.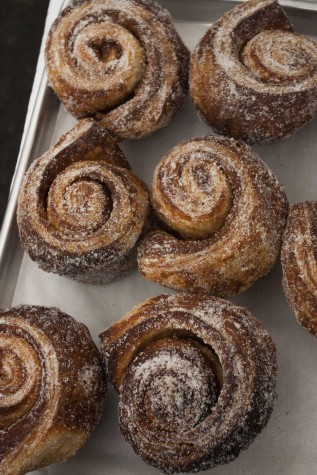 It's a rainy Tuesday morning in April, and the booths of the Tuesday market are set up and ready to roll. Students from the high school head over to eat lunch with their friends. The market attracts students with its multiple lunch options, but its true importance is often overlooked.
Spreading the Word
Local businesses use markets to sell their work and advertise themselves. But that is not all the market is good for. Ken Adamson from the Silken Soap & Body Works company told us about his experience there. He works hard to advocate the use of natural soap and its beneficial uses to your skin. When he was a boy, his grandmother taught him how to make soap out of bacon grease; this background lead him to working in commercial soaps. This was a part of his lifestyle until he eventually chose to find less harmful products to benefit himself as well as others.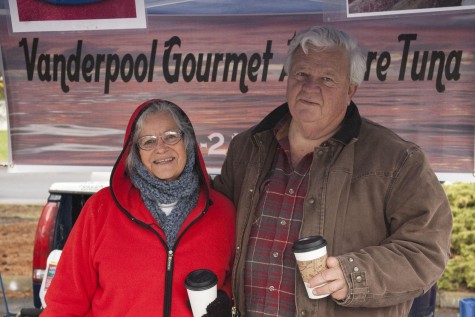 Local Farming
Many non-farmers at the market will choose to use supplies from their local farms. "Katrina loves to help support the local businesses when she can," said Aaron and Joe, while working at Katrina's Salsa, a booth most famous for its daily-made tamales. Katrina prefers to use local tomatoes for her homemade salsa. Several farms are family run, and the support from these buyers help to keep these families alive.
Terra Fry,  of Fry Family Farms, talked about her current involvement in farming while she helps her parents with the business. They opened their farm 20 years ago, and it has been running successfully ever since.
Zoe Fioretti, a helper at Fry Family Farms, spoke with us about the importance of farming and their choice to be organic. She explained how their farm benefits the economy by creating local jobs.
The Hype about Raw
Another large, widespread topic is raw foods. Numerous booths at the market display signs proclaiming that their products are "raw" but what does that mean? Raw food means it is uncooked as long as it doesn't reach above 118 degrees, unprocessed, and mainly organic. The reasoning behind this is simple. "Heating gets rid of the beneficial bacteria that is present in the product," said Orozco while speaking about the honey process. Without these additional bacteria, the honey practically becomes sugar syrup.
Another less obvious raw food offered at the market is goat cheese. Dalfonzo owns a farm share with a business who raises their own goats in the Rogue Valley. These goats are used to make the raw cheese that they sell to the public and other wholesale establishments. Their products have been sold often in Seattle and Portland, as well as some places in California.
Maria DiMaggio, local businesswoman and mother, chooses to live her lifestyle raw. She has been living different lifestyles such as vegetarian, vegan, then eventually raw, for 40 years. She believes that this is in fact the best way to eat since it is more nutritious. DiMaggio, who now owns Higher Power Raw Foods, had the "passion to create" and opened her business, which now sells to the Co-op on retail in addition to her booth. She offers everything from chips and burgers to dips and cakes; all her foods are 100% gluten free, raw, and vegan. Eating raw is great for you, but she chose to open her stand to make raw eating a little more interesting.
Benefits of the Market
Many of these vendors sell their merchandise at local groceries such as Market of Choice, Shop & Kart, and the Ashland Food Co-op. So why do they come to these local markets? Aside from the social benefits of meeting others, it can be constructive for product analysis. "It's good for market research," said Ken Adamson, who has been located in the Ashland market for two years. His business has not yet reached retail locations, and he gains from having one-on-one feedback that he uses to continuously improve his product. Aside from this, his experience at the market has given him the chance to meet other people, where he talked about his incidents in bartering with other booths.
Jane from Mama Terra Micro Creamery says that markets are wonderful for starting a business because of the criticism from customers and the chance to grow interpersonal relationships with each individual. The Creamery has been open at the Ashland Market for six years. Besides the income benefits, Benjamin Orozco from the raw honey stand says the market is "like a family," bringing in all types of people from the community. Vince Dalfonzo from the raw cheese booth agrees, saying that Ashland is wonderful for its community of people who understand the work and time that is put into all food products.