On the Business End of Instagram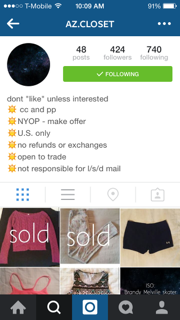 With social media taking up the majority of our free time, and 300 million people using Instagram every day, it's not surprising a new Instagram phenomenon has gained popularity.
Instagram boutiques, closets, shops, there are many names for it but they're all pretty much the same. Selling your clothes, makeup, and accessories on Instagram is the newest fad. These shops first started popping up when Instagram first started, but they have been increasingly popular over the years.
The most sought after items on Instagram shops, are from the infamous brand Brandy Melville. Another popular brand is Victoria Secret, with the largest sums of money going to the owners of these items. But the majority of people just decide to clean their closets out and realize they have nothing to do with their clothes so they put them on Instagram. It's a great place to find phone cases and designer brands for cheap prices. But it's important to pay attention to finding honest sellers that will show flaws and will give reasonable prices.
A few concepts go together that make the Instagram boutique world work. One of those is the bio. In the bio most people include things like not responsible for lost or damaged mail, shipping on a certain day for (example Tuesday), stating whether they do trades and try-ons. Trading is another concept in which a lot of users participate. Say one person is looking for a Brandy Melville skater skirt and they come upon an account that has one, but they can't afford it. They can then ask if they'll trade for something from their Instagram boutique. The user selling said skirt will then go look at the account of the user seeking the skirt and whether they have anything worthwhile (assuming they put open to trades in their bio). What do you know, they find an adorable pair of Steve Madden boots they're willing to trade, and no money is used.
A question that is repeatedly asked is "how do you trust people that you send the money to to send you the item you bought?" That's where proof pages come in. Most boutiques will have another account that's sole purpose is for proving that they are trustworthy. Whether they have receipts from the post office proving they mailed the item, or other accounts saying that they received items from them.  There are two ways to pay for the item you want. The first being PayPal.This is easier and cheaper than sending money through mail, but not everyone has it. The other is concealed cash. The latter is how the majority of users pay. In a nutshell, they just send a letter saying what item they're purchasing and the money that they owe for the item.
This has been earning some people large amounts of money, and there have been success stories of people being able to buy cars and pay for college because of this simple business model on social media.