Football Season Preview
Hang on for a minute...we're trying to find some more stories you might like.
Last season started well for the Ashland football team. With six wins and no losses, the Grizzlies felt they could be just as good as the 2013 season when they made the semifinals, but it wasn't to be. Back to back losses to Springfield and Marist set up the Grizzlies as the 10 seed in the 16 team 5A OSAA bracket. They upset Hillsboro, but couldn't get anything going against Silverton to finish with a disappointing record of 8-3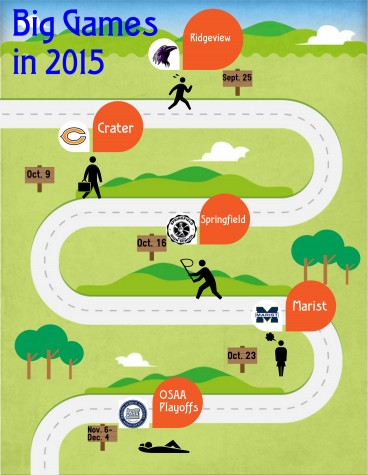 Going into last year one of the biggest question marks was how Kyle Weinberg would fill the shoes of outgoing all state quarterback Daniel White. Weinberg answered that with solid play last year and anchors a group of offensive skill players with a strong amount of experience. Ryne Robitz is gone at running back, but Mason Dow and Michael Pruitt are filling that gap. Both are seniors. At tight end, Hayden Layton is trying to fill his brother Parker's shoes after he left to play at Western Oregon University. The wide receivers are anchored by two time second team all state senior Shashi Penn. Also expected to be large contributors are Walker Shibley-Styer and Nicky Weinberg.
On the defensive side of the ball the secondary was hurt by the loss of Max Montgomery and Theo Whitcomb. As the only returning starter Shibley-Styer will anchor an inexperienced, but athletic unit with Malik Pippa and Penn getting significant snaps. One of Ashland's largest issues will be a lack of size in the trenches. This is nothing new for the Grizzlies, but is a challenge no less. Colin McGuire will play an important role as one of the few players with experience and size.
The schedule kicks off with the bi-annual Pacific Rim Bowl against the Japan High School All Stars. Following the exhibition game the grizzlies have a month to prep before the season kicks off against Klamath Union. League play starts October 2 on Homecoming night when Churchill comes to town. Following that three straight games against Crater, Springfield, and Marist will decide the Grizzlies fate.