Girls vs. Boys Basketball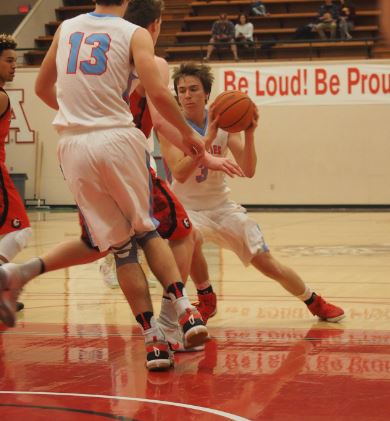 Hang on for a minute...we're trying to find some more stories you might like.
This year, a strange thing has happened on both the girls' and boys' varsity basketball teams: the girls' team has no seniors, whereas the boys' team has eight seniors and only three juniors. Rogue News wanted to find out how this affected the dynamics and goals of each team. Freshman varsity player Mikayla Titus said that there is an opportunity for her and her teammates to take on leading roles since the team lacks upperclassmen. In comparison, senior varsity player Tucker Atteberry explained how his team has a stronger team dynamic from all the years of playing together. Jake Hansen, also a senior on boys' varsity, agreed that the chemistry within the team is strong and helps bring them together. Atteberry's goal for the season, an aspiration that seems to be shared with the rest of his teammates, is to host a home playoff game. Atteberry said that patience is the most important lesson he has learned from being a part of this team. Hansen added that something he will take with him past high school is a lesson he learned from his coach, Sam Osofsky. He said, "life is all about relationships." Both teams are anxious about how next year will turn out, but they know that whatever happens, they will always have great memories from their time on Ashland High School's basketball teams.