Wrecking Records One Race at a Time
Breaking 8 records during the course of his high school career, EJ Holland has become a Cross Country All-Star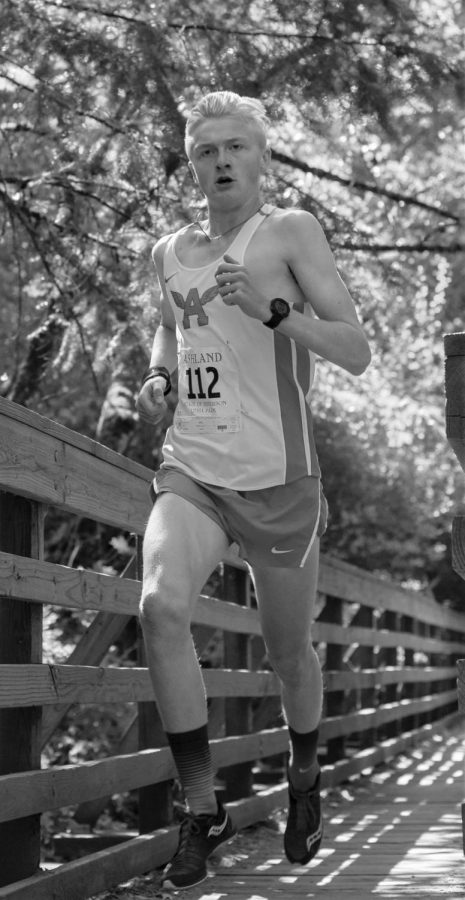 Hearts are racing, the crowds cheering, as Evan James Holland sprints to pass the finish line, taking first place against over one hundred other runners. Holland, an eleventh grader at Ashland High, has placed first in six different races so far in his 2018 cross country season.
Holland did not start out winning races though. Before he joined cross country in seventh grade, he ran track. "I only ran sprints and I was awful,"  said Holland. At first, he only joined cross country because he had nothing better to do, but not long after he was hooked. "When I started running, I didn't know I would do this good. I just started running for fun," said Holland.
Holland explains that he's never taken a long time off from cross country. "The way to achieve success is by training and staying committed to the sport," he said. "Doing quality work is what makes success happen…. If you want something, you have to work for it. You have to trust in the process and training that you will do better than before."
When Holland is overwhelmed or exhausted, he knows his father will be there to support him. The encouragement and support from his dad has fueled him to achieve more. "I always want to make him proud," said Holland. "He's my best friend."
"
The way to achieve success is by training and staying committed to the sport," he said. "Doing quality work is what makes success happen."
Holland's cross-country team mates are important to him. He wouldn't be where he is without his team. "Us distance guys are one big family," said Holland.
"People don't give cross country runners enough credit," said Holland. It's a team sport that also requires a lot of individual training. "You have to not only train your body, but also train your mind to run fast," he explained. According to Holland, during a race, the physical endurance of your body will mean nothing if your mind is not willing to continue running. You must prepare your mind as well as your body.
Since 2016, Holland has broken 8 different records in 4 different categories. Winning is an important feeling for anyone to have in life, Holland said "Winning a race and breaking a record is like the cherry on top…. The feeling of relief you get when you've done well feels pretty good."
Holland follows the common runners trick of eating high carb foods before a race. As a tradition, Holland eats spaghetti and red sauce the night before for dinner.
One thing Holland suggests runners not to do before a race is eat an entire bag of watermelon.  It was his second cross country meet ever, in seventh grade, and Holland ate an entire bag of water melon right before a run. He ran the slowest 3k he's ever run in his life that day.
Holland believes he must stay on track and focused. He knows he cannot mess around, but also does not want to over think.  "At the end of the day it's just running" said Holland. Besides track, Holland enjoys his time off to spend with his friends. Most weeks, when Holland is not at meets, he's participating in Boy Scouts, which he's done since first grade. Holland is an Eagle Scout, the highest rank awarded.
Whether or not Holland is college bound, he said he is "Excited for the opportunity to run in college." Holland said it feels as though it has not been that long since he started running and is appreciative of all the opportunities, he's been given to express his passions. "It's amazing how far I've come in such a short amount of time," said Holland. "I'm ready to do this day in and day out."