Yule Ball!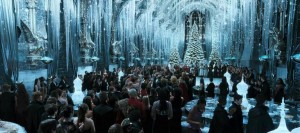 Dust off your dress robes because Ashland High School's 2011 Winter Formal is just around the corner. The theme is Yule Ball, which for those who aren't familiar with J.K. Rowling's "Harry Potter and the Goblet of Fire," is a formal winter ball that takes place during the Tri-Wizard Tournament. The Yule Ball features white trees, snowflakes, and icicles galore.
The AHS Winter Formal Yule Ball will be held on the eve of Feb, 5 from 8:00 to 11:00 at the Southern Oregon University Britt Ballroom.
Tickets are for sale on the Quad at lunch on the Wednesday (Feb. 2), Thursday (Feb. 3), and Friday (Feb. 4). Pre-bought tickets are $9 for singles and $16 for doubles, while all tickets are sold for $10 on the night of the formal.
All proceeds will go towards the host, National Honor Society's scholarship funds.
Leave a Comment