Mark Salzman Workshop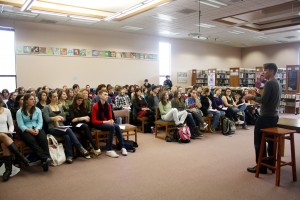 On the night of Thursday, February 3, a crowd sat anxiously awaiting acclaimed author Mark Salzman. The Mountain Avenue Theater echoed with laughter throughout the entire night as Salzman enlightened the audience of his epiphany that: "A dog is an empty boat."
The evening was a success thanks to the Chautauqua Poets and Writers Association and a collection of generous sponsors. This association has been continuously bringing accredited authors to Ashland over the past five years.
"Salzman was very intelligent and incredibly entertaining!" said Sadie Shelton who attended both the reading on Thursday night and the student work shop held in the Ashland High School library on the morning of Friday, February 4.
Below is a list quotes by Salzman from the Friday morning student work shop which was held for a selection of students from Ashland High School and North Medford High School.
"When I first started writing excerpts about my experiences in China, I wasn't even aware that I was writing a book!"
"(While writing) if it is at all possible to be as loose as you can… while trying to ignore the fear associated with doing it, then you're in good shape."
"(When I first started writing) I had read so few (books) that I didn't realize how flexible writing can be!"
"I arranged to be out of the country (in China) when my first book was released." While flying home through New York, Salzman sat next to an elderly woman who was reading a paper. She turned and said to him "'Why look, a young man just like yourself has written a book about China… and look, he could be your brother."
"(My kids) have seen me do Ti-Chi in the backyard, and my wife tells my children 'look, daddy is playing games'…"
"In the movie Iron and Silk, look specifically at the scene where I punch a wall… in the process of doing so, I broke my thumb. If you watch closely, you will see that my thumb is swollen throughout the film."
"In a documentary, the footage exists and making it good is all about fitting the puzzle together so it flows. Writing fiction is exactly identical."
"I first started learning to speak Mandarin Chinese while watching dishes (for free) in a Chinese restaurant."
"A dog is an empty boat. I am an empty boat too."
Leave a Comment