How the Library Selects its Books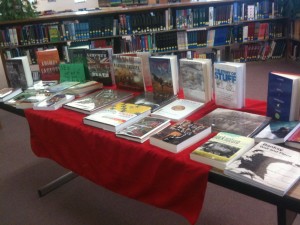 I recently went to the library and asked the librarian, Bill Street, various questions about the books in the library to get a good idea how and why they're selected for inclusion. My findings were thus:
Bill makes three orders for new books every year: in Fall, Winter, and Spring. The reason there always seem to be books on the "new books" table is because the book orders take a long time to process, so they get to keep the rotation constant. In total, the books cost $6000-8000 dollars a year.
When prompted about how he selects the books, Bill said he uses a magazine published by the American Library Association called Booklist. The magazine gives book recommendations to libraries all across the country, and even gives different recommendations based on whether the reader represents a public library, school library, etc.
The books themselves are mostly shipped in from a factory in Roseburg, by a company called Ingram. They ship books and other reference materials to libraries all over the country.
Finally, I asked Bill if any books have ever been taken out of the library's circulation, and he had this to say: "With other schools, if a student or parent complains that a book is objectionable, that book will eventually be taken to the school board and they'll decide on whether or not the book should be kept, but that's never happened here once."
Some of the new books coming in this season include: A Blue So Dark by Holly Schindler, Imperfect Birds by Anne Lamott, Green Careers: You Can Make Money and Save the Planet by Jennifer Power Scott, One River by Wade Davis, Over the Anvil We Stretch by Anis Mojgani, College Handbook 2011 by The College Board, and Fishes of the Open Ocean by Julian Pepperell and Guy Harvey.