Rebecca Summers: Ashland's Biggest Fan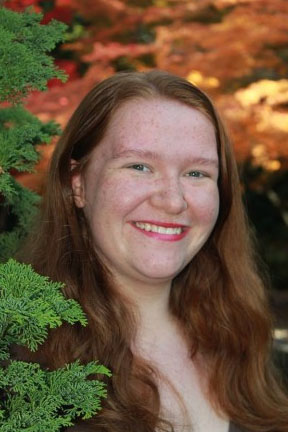 Ashland High School is pretty great, but did you know there is a student who moved halfway across America, by herself, just to go here? Rebecca Summers drove with her grandparents from Rapid City, South Dakota last summer to Ashland. But unlike other families who move to another state together, Summers's grandparents just dropped her off at her friend's house and went home again. Ms. Summers has been living this year with her long time friend Madelyn Bangs, another South Dakotan who moved to Ashland in 2010.
During the summer of 2012, Summers visited Ashland for the first time to see Bangs and her family. "I fell in love with the town" she says. She saw The Very Merry Wives of Windsor Iowa at the Oregon Shakespeare Festival and was excited by the enthusiasm for theater in Ashland. She was involved in drama at her previous high school, and acting is a passion of hers. She spent the next year convincing her parents to allow her to return to Ashland to live with Bangs so she could try school here.
On August 10, 2013 she finally made it. Upon moving permanently to Ashland for the 2013-2014 school year, Summers found herself with several friends already there to welcome her. In addition to some of Bangs's high school friends, Summers also found that the August Band Camp made her lots of new friends. She participated in band at Steven's High School in Rapid City as well, and knew she could find a home there. "Even if I didn't make any other friends, I knew I'd have band kids. Because band is family," she says. She recalls her first day in band, when her new teacher, Jonathan Chase, tried to give her the flute section leader's phone number, only to find she had already gone about getting it herself. She was more than ready to take on a new school.
In her nine month stay she has charmed the senior class, receiving the title of "Best Laugh" in the Senior Most Likely awards. She is in the cast for Ashland High's production of The Three Musketeers, and is happy to have had the opportunity to be a part of our theater. She also participated in the Gay Straight Alliance and volunteered with the Ashland Independent Film Festival. She has enjoyed AHS immensely, though she reports it being very different from back home. "It was a little scary at first," she says, as most teenagers probably would when moving away from home. Her previous high school was three times the size of Ashland, but she knew almost everyone. She says living without her family and old friends has given her new perspective and has prepared her well for college.
This coming June, barely a week after graduation, Summers will be making the 1,500 mile drive back to South Dakota. In September she plans to attend the University of Minnesota, Morris to study business.
Leave a Comment