What Screen Time is Doing to Teens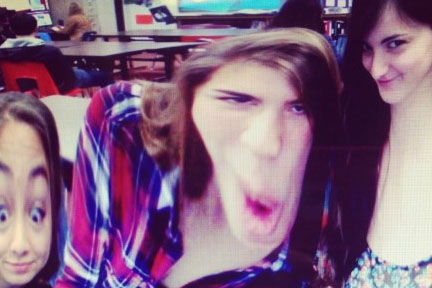 Reading this article right now could be frying your brain.
Okay, maybe that is a drastic statement. But the suggestion that teens are getting an overdose of screen time isn't new to the spotlight of speculation articles. In a study presented at the American Heart Association's 48th Annual Conference on Cardiovascular Disease Epidemiology and Prevention, it was shown that 60 percent of teens spend an average 20 hours in front of a screen per week. A third of teens spend around 40 hours and 7 percent spend about 50 hours in front of a screen- that's about 7 hours a day.
So how is this "screen time" affecting our brains?
1. Packing on the Pounds
Teens who spend an excessive amount of time in front of the television or the computer are more susceptible to gain weight. This is because, for some strange reason, teens cannot fully enjoy the experience of watching television or gaming on the computer unless they are accompanied by an array of snacks. Because they're eating while distracted, they cannot easily recall how much they have eaten, and they are more likely to consume 25 percent more food later in the day without realizing.
2. Diminished Bone Density
A study conducted in Norway revealed the link between the amount of screen time teens undergo related to the density of their bones. 484 boys and 463 girls aged 15-18 underwent bone mineral density tests. Boys, who generally spent more time in front of screens than girls, had a predictable dynamic; the higher the screen time, the lower the bone mineral density. This is bad, and will put you at a greater risk for osteoporosis in later years.
3. Stress Levels Through the Roof
Gaming and social-media-ing are thought to be stress-minimizing activities, which are positive. But the repercussions of spending hours in front of a pixelated screen are negative. In a study conducted by sixteen-year-old aspiring social scientist Zarin Rahman, teens were asked to rate their regular level of stress on scale of 1-5- Rahman received mostly fours and fives. Rahman also found that her subjects who had longer periods of screen time also had more trouble sleeping and experienced more stress, which lead to higher levels of blood pressure.
Now that you've got the facts, take into account how much time you spend in front of the screen- whether it be your phone, computer, iPod, or tablet. The hours you spend scrolling through social medias is slowly, but surely, harming you. It may be extremely hard, if not impossible, to completely diminish your screen time, but cutting back will be rewarding to both your body and mind.
Leave a Comment