Scar Face, Leg or Arm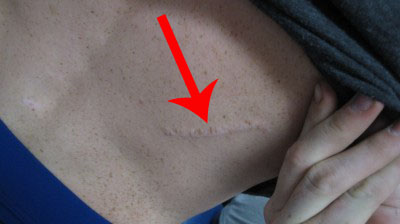 Scar Face, Leg, or Arm
Scars are a centerpiece for bodies and a great way to make conversation. Many people have them. People's stories are spread almost like legends. They become permanent ink on peoples bodies. Most people have a scar and whether big or small, there is always a story behind it.
Like most athletes' scars, Maya Moskowitz's stands out. Her scar is from an ACL (Anterior Cruciate Ligament)  surgery she had done after a baseball related injury. Being out for a long time, Moskowitz still went to support her team as much as she could. After the surgery, she couldn't finish the season but came back the next fall to tear up the soccer field. Moskowitz has now made a full recovery and has had no problems post-surgery. The scar stretches across her knee, but the surgery does not stop her from doing what she loves, playing sports.
The next persons scar darts from the middle of his back to his lower back. Cedar Barnes's scar is a reminder to always be careful on roofs, Barnes sustained his scar after falling off a roof and cutting his back on a gutter. He then checked it in a mirror, and saw it was not bleeding. Moments after, he felt something going down his back, his shirt was now spotted with red but with a cool head and careful thinking he was able to clean and patch it up. Barnes was also able to avoid infection. He is reluctant about having this scar and says he should have never been up there in the first place. Barnes also said, "I'm pretty mad now, that was my favorite shirt!"
One of Ashland High School's very own teachers has not one, but two scars from an amazing story. Coach Hall's story is set five years ago. After all the years of wear and tear done on his body from playing sports he knew he had to get hip replacements. The surgery and the prosthetic hips both do not slow him down from now coaching the Ashland High School football team and teaching Physical education classes. Hall is fine now and has little-to-no problems with it any more, Hall has two scars that are four inches across, on both hips.
All scars are memories, they show what people have done in their lifetimes. Stories are shared of how scars have been acquired, some tragic, some funny, some terrifying. Either way, scars are like stories, and they make everyone special.
Leave a Comment