How to Switch Your Classes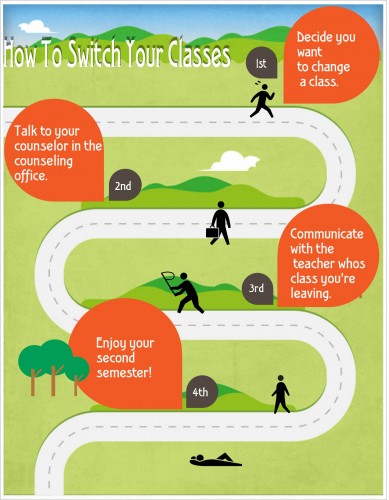 With a new semester comes a recurring problem for Ashland High School students. Almost every student at some point in their high school career will want to change a class, and the AHS counseling office makes it simple and easy.
Once a student has decided to change their schedule for whatever reason they need to contact their counselor. For students with last names that begin with A-Le, their guidance counselor is Steve Smith. For students with last names that begin with Li-Z, they need to go to Amy Kennedy. A majority of students go into the counseling office across from the library to make a change, but students can also email their counselor for simpler changes, or students can fill out a class change note if they do not care about the new class they are put in and just need to get out of their current one.
While often times changing classes is simple, roadblocks like waiting lists for electives and the periods certain classes are offered can slow down the process. Another thing to consider is college transcripts. Changing electives is rarely an issue with this, but changing year long courses can be a larger issue. Kennedy provided an example in which a student wanted to change from anatomy to earth science. "Colleges will wonder why," explained Kennedy while adding that the class grade often explains it to colleges. So before switching out of a year long course students should consider the effect it could have on their future.
Students should expect to wait if they go to the counseling office early in the semester. According to Kennedy she is constantly busy the first two weeks of every semester with students changing classes.
As we head into the new semester students should understand that changing classes is an easy and simple process and they should not hesitate to make a switch.
Leave a Comment