Finals Week Fashion
As finals week comes and goes, people become increasingly relaxed with their attire. Sweatpants, leggings, pajamas, and baggy sweaters replace skin-tight jeans, button-ups, and dresses. Although some people hold out for the first day or two, by the last day of the week, the "finals week coma" takes everyone over even the best dressed's sense of style.
Olivia Gower, a freshman at AHS, like many others during finals week, is dressed in leggings and a pullover–too preoccupied with studying to worried about her physical appearance.
"During finals week, I don't want to focus on what I look like, instead I would rather focus on getting a good grade," says Olivia Gower with the signature finals week sniffles from too little sleep and too much stress.
With tests, exams, and projects due, people have left behind the trivial pursuit of physical appeal in pursuit of a perfect grade. People are forgetting about the makeup and hairdos, and instead are concentrating on finals.
---
But is this finals tradition helping or hurting the students of Ashland High School?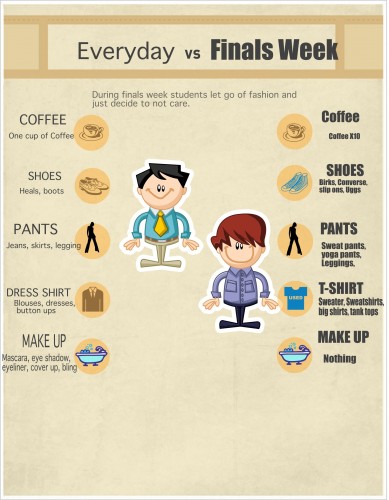 According to a study conducted by Northwestern University termed "Enclothed Cognition," attention increased when someone wore a coat associated with doctors; attention did not increase when the coat was associated with painters. In theory, if someone wears comfortable, casual clothes, that person may feel more relaxed, however that may not be the best way to go into your finals.
While people may think that the best thing to do during finals week is to wear comfy clothes, it might actually increase their scores if they take a shower and put on a t-shirt that they didn't wear yesterday.
However, although what you wear on exam day may affect your scores, a study from College Magazine suggests that your scores are more affected by your daily style.
With finals ending, sweatpants will go out of style. People will go back to their usual style, and they'll deny they ever wore pajamas to school. While finals are still here you might as well rock those leggings and middle school basketball jersey.
Leave a Comment