Make a Wish!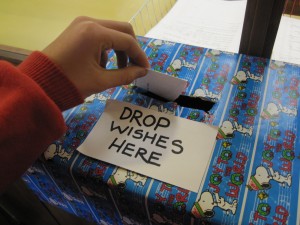 Have you ever had wish that you always wanted to come true but can't get on a regular basis?
Well, lucky for you, Ashland High School has a Wish List Program. There are boxes in the Library, Commons, and in the Main Office to submit your wishes in to. You have up until the December 15, to submit your wishes. The leadership crew then goes through and empties the boxes full of your wishes, and by the time the Winter Assembly comes around, Leadership will have chosen the ten best, which will be the ones granted.
"People have wished for dates with upper-classmen before and we set up a table in the corner of the gym with sparkling water and a candle for the 'lovely couple' while the assembly goes on. A bigger wish that leadership has granted in the past was for an iPod." Says a freshman leadership member, Sadie Kasiah.
You can't get a prize if you don't at least make a wish. Like they say, "You can't catch a fish if you don't start by putting the hook in the water!" Good luck!
Leave a Comment