AHS theater: Off campus and off script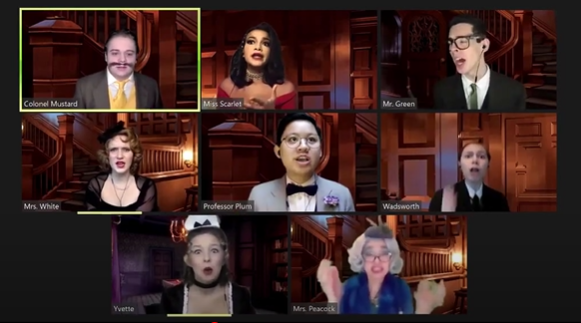 Being creative is nothing new to Ashland High's theater department, but COVID-19 has forced them further off script then anyone might have prepared for. In a year of unprecedented cancellations and closures, AHS' thespians were forced to find new ways to take to the stage. With in-person performances out of question, they turned to an online school staple: Zoom. They debuted the format this winter with live-streams of the play adaptation of the classic board game and hit 1985 movie Clue.
The learning curve for the online shows was steep. From downloading virtual backgrounds to setting up an at home studio, technology dominated much of the preparation.
"The first few weeks were all about us discovering how zoom works. It was a lot of us practicing how we could do stuff over zoom, even if it's just as simple as figuring out how to look at each other through zoom, it's a lot of work" said senior Evan Heintz, who played Mr. Green.
Even with all the tech work, there were still some kinks with the format during the performances. Between lag, frozen screens, and actors getting kicked out of the zoom, the beginning was a bit of a rocky road.
"All but the last show had at least one big technical difficulty" Heintz said. That kind of thing is to be expected when breaking into a new medium, but cast members handled all the challenges of Zoom well.
"We all made a really good performance and production out of what we had; we all had our own crazy individual things to work around, but after lots of practice we made a really good production considering it's all over Zoom," Heintz added.
Community members were less discerning about technological struggles; the shows went over well with the audience, who were appreciative to have local play with OSF and the Cabaret shut down. The new format didn't deter viewers, who came in the hundreds each night.
Much of the actors' focus was just enjoying getting back on the (in this case virtual) stage and trying to put on the best show. Improvement was the name of the game all the cast learned a ton over the months of planning, rehearsals, and performances. All that will be vital when they take on yet another challenge: a virtual musical. The details are still being worked out, but like Clue it will likely be a small cast and an adapted-for-at-home version. Singing over zoom may seem like an impossibly difficult obstacle, but looking at what they've done these past months, not much can stand in their way.
Leave a Comment