Key Club's Giving Tree
Every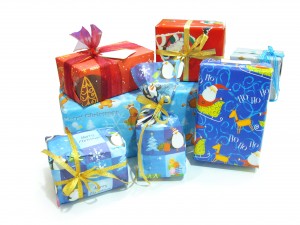 year the Ashland High School Key Club, in partner with the local Kiwanis Club, puts up a giving tree in town. The tree is decorated with cards that have the name of a child and what they want for Christmas. This year is no different.
Children from lower-income families in the community are recommended to the program by the South Valley Community Human Services in Ashland. To choose participants, case workers send out questionnaires to families, and need to receive them before Thanksgiving. Kiwanis asks for 75 names, but, this year, only received 68. All the children who receive gifts live in Ashland or Talent. The questionnaire asks parents the name of the child, age, size, and present preference with a thirty dollar or less value.
This year the Giving Tree is at Albertsons. Community members can go to the tree, choose a card and buy the gift that the child asked for. Kiwanis and Key Club always pick up the slack. If a child's present wasn't bought by the community, or the present bought wasn't requested, they buy the presents. On Friday, December 17, the members of Kiwanis are going to Target and Fred Meyer to purchase the gifts.
On December 20, Kiwanis will wrap all the presents and deliver them to the South Valley Community Human Services on December 21. The Human Services then brings the gifts to the families to provide a little more holiday cheer for those who need it.
Leave a Comment