Gifford's Shooting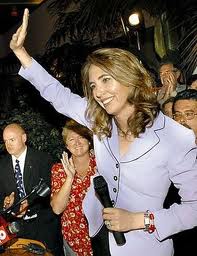 Seldom are there events that fundamentally alter the long term relationship between American leaders and their constituents. The shootings of Presidents Kennedy and Reagan changed the way that presidents interacted with their constituents. Now the attempted killing of Arizona Congresswoman Gabrielle Giffords appears to be another such event. In the aftermath of the shootings, the nation seems to be left mainly with questions. What sort of man could be responsible for something this horrible? What are the political implications of this tragedy? Will I ever be able to interact with my congressperson in the same way?
Who
Jared Laughner, the man responsible for the shootings, is not the politically motivated assassin that many have portrayed him as. "I doubt people who say this is about politics have a good understanding of mental illness," said Dr. Bob Dolgoff, medical director of Alta Bates Summit Medical Center's mental health division. "It could be conspiracy theories or men from outer space. The important thing here is why wasn't he in treatment?"
After his junior year, Laughner dropped out of high school and began sporadically enrolling in classes at a local community college. It was there that he began to display some of his most disturbing signs.
"He was one of the last kids to come in, and he sat down and almost immediately started laughing to himself in a way that was just kind of creepy," recalls Alex Kotonias, 20, who sat behind him. "And then, as soon as the teacher started going over the syllabus, he had this outburst out of nowhere, didn't even raise his hand, and started asking the teacher some sort of weird questions about whether he believed in mind control."
Adjunct professor Ben McGahee says, "I remember going home and thinking to myself, 'Is he going to bring a weapon to class?' " Laughner was eventually expelled from the college due to his disruptive behavior.
While Laughner's action was seen as troubling, officials outside the school were not involved, as Laughner's actions and words were not directly violent. "People call it 'the schizophrenic in the back bedroom.' His parents were probably pulling their hair out," said Liz Rebensdorf, a retired psychologist and president of the National Alliance for the Mentally Ill's East Bay chapter. "Unless there's a crime committed, it's very difficult to force someone into treatment."
Why
While the medical consensus seems to be that Laughner certainly had some sort of mental illness, this has not stopped speculation into potential political motivation. Laughner had created a series of politically motivated YouTube videos on subjects as wide ranging as "informing conscience dreamers about a new currency" and immigration issues.
Several political figures, such as Glenn Beck and Sarah Palin, have received fierce criticism for their inflammatory rhetoric and its potential role in the shooting. While there is no evidence to indicate that Laughner adhered to any political ideology, the role of their rhetoric as an inspiration can be neither confirmed nor denied.
Leave a Comment