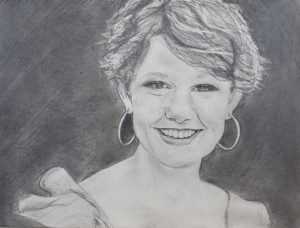 Vandalism: a word used often in context of city remnants, bathroom stalls and industrial buildings, but not usually one found on portraits of a high school student. Although art vandalism is kept to a minimal within the confines of the Ashland High School setting, there are always exceptions to the rule; last month, sophomore Angelique Brownlie was that exception.
After returning from winter break, Brownlie was notified that her self-portrait, a work that took 5 hours to complete, was sketched out in the tooth area with pencil. "My artwork, especially my self portrait, is a direct representation of myself. I took it personally. It was as if someone were drawing on my actual face," recounts Brownlie.
"This is not the first time art has been damaged, but it is the only piece of art sabotage at AHS this year," art teacher Mark Schoenleber said, "It's really sad that people feel they can violate beautiful artwork."
Brownlie has pulled all of her pieces out of the art room and upcoming show. "I think it makes a huge impact on all the artists at the high school, for they may feel like by displaying their artwork, it could get vandalized. I think it will lessen the artistic openness of this school as a whole."
Contributions from Erin Parish-Harlow.