Birthday of the Bard
"All the world's a stage,
And all the men and women merely players…"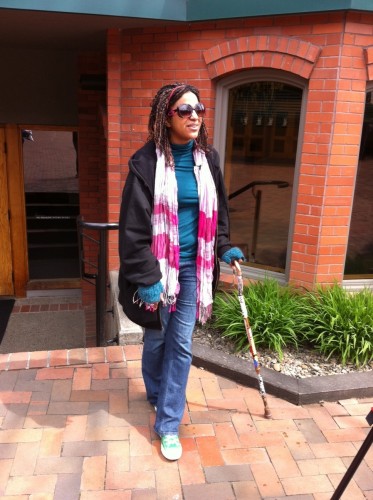 So begins the famous lines of a monologue from Shakespeare's As You Like It, Act II Scene VII.  Play-goers and players alike celebrated the great playwright's 447th birthday Saturday across the globe.  While Shakespeare's actual date of birth is unknown, it is generally reserved for the 23rd.
"Happy birthday Shakespeare!" enthused Claudia Alick, associate producer of community at the Oregon Shakespeare Festival on Saturday.  In Ashland, on the bricks of the Shakespeare Festival, a school group eating lunch before a show, and general passerby got a surprise when over a dozen performers and community members began reading or spouting from memory the entire monologue that begins as this article does.
The 'poetry mob' was in honor of Shakespeare's life work, which is celebrated every year in productions at the Festival.  "There was barely any planning," Alick said with a laugh.  The event was inspired by members of the OSF costume crew, who had gotten together to perform a flash mob for the cast and crew call.  "We wanted to do something fun like that," Alick explains.  Similar surprise parties for the master of iambic pentameter were held all over the country, using the same script from As You Like It.
Leave a Comment