AHS SADD Club is not a 'sad' club
Students Against Destructive Decisions (SADD Club) is back at Ashland High School after a one year absence. SADD is a group of students who have made the decision to stay drug and alcohol free during their high school careers. As their senior project, Jonathan Mills and Lee Owens-Oas have rejuvenated the club and recruited members to join them in their pursuits to educate younger students about peer pressure. The club consists of co-presidents Mills and Owens-Oas, in addition to juniors Olivia Fidler and Sarah Kasiah, and freshman Sadie Kasiah.
SADD Club's primary project is visiting elementary and middle schools around the area. A typical SADD Club presentation includes an introduction of all the members and their reasons for staying drug and alcohol free. The members describe some of their experiences with peer pressure and party situations, allowing the younger students to ask questions about high school in general. Lastly, a "drug Jeopardy" game is played, and students are given the opportunity to play catch with "drunk goggles" on. These goggles give a realistic simulation of what it is like functioning under the influence of alcohol, recreating similar dizziness, nausea, and lack of coordination.
"SADD Club is vital in influencing students' perceptions about high school and peer pressure. We are role models who prove that there is a healthy alternative," Owens-Oas commented about his involvement in the club.
In March 2011, AHS SADD Club went to Jefferson Elementary in Medford and talked to a 5th grade class. Although most 10 and 11 year olds do not have to worry about drugs and alcohol, it is unfortunately already a problem for some. This April, SADD Club visited Ashland Middle School three times. The club was contacted by Jamie Haden, a health teacher, as well as Jennifer Losinksi, a 7th and 8th grade math teacher.
"The SADD club was very eye opening. They were so real and relatable about their experiences with peer pressure, and it made me feel confident about next year. It was great to hear a group of students say that you don't have to drink and smoke to be cool," said 8th grader Anne Skinner.
SADD is an unfortunate acronym, as many younger students may ask "are you 'sad' that you are sober?" This is far from the truth. As Owens-Oas explains, "SADD club members have all had very successful, enjoyable lives without drugs and alcohol. We couldn't be happier about our healthy lifestyle choices."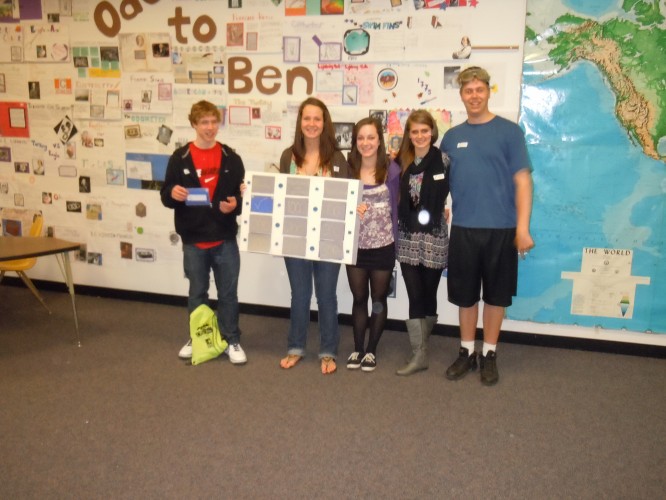 Leave a Comment