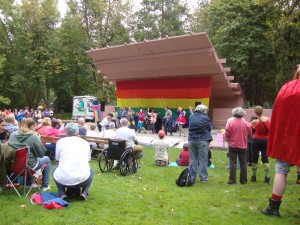 While this was southern Oregon's seventh Southern Oregon Pride Festival, it was the first time the festivities included a parade. While the event was kicked off Friday night with an opening celebration, the main event consisted of the parade and performances at the Lithia Park Band Shell.
Despite SO Pride's reputation for a discouraging turnout, this year's gathering was impressive. The streets were lined Saturday afternoon with marchers and supporters alike. The parade consisted of a variety of floats including Ashland High School's own GSA who marched along side Crater and South Medford's GSA.
Though most floats were lead by beaming activists, one float had a more sobering message. One float was dedicated to the recent suicides of five gay teens who ended their lives due to relentless harassment.
Once the parade made its way down to the band shell, the entertainment was kicked off with a moving speech given by the festival's grand marshal Bill Rauch, Artistic Director of the Oregon Shakespeare Festival. Rauch captured the audience with his clever wit and heartfelt speech. After the festivities were officially opened, the brightly-colored crowd was thoroughly entertained by local performers such as Rogue Suspects, Sue Carney and Blue Lightning. During one song by the Rogue Suspects, many marchers spontaneously linked hands and began swaying and smiling out at the crowd, truly embodying SO Pride's message of unity and love.
With the plaza packed with activists and the sidewalks bursting with supporting spectators, last weekend's celebration of our community's diversity truly showed that Ashland is a forward thinking and open-minded town like no other.