I Heart Ashland


"Life Without Limbs"- this is the motto that Nick Vujicic, an internationally acclaimed inspirational speaker, follows every single day. Vujicic was born with Tetra-amelia syndrome, a rare disorder characterized by the absence of all four limbs. Yes, you did read that right; Nick Vujicic was born without any arms or legs. He really does live "Life Without Limbs".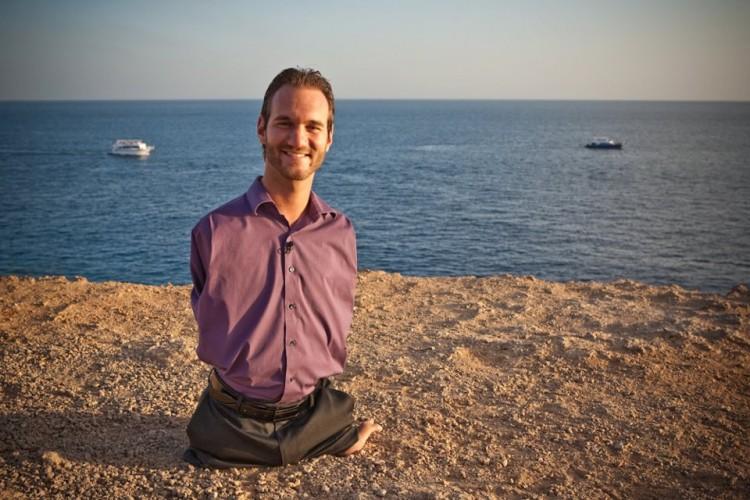 Since he was a child, Vujicic has always struggled mentally, emotionally, and physically, but eventually he came to terms with his disability and embraced it. At age 17, Nick Vujicic started his own non-profit organization, Life Without Limbs, to encourage and inspire people of all ages to follow their dreams and never give up. Vujicic presents speeches worldwide on living life with a disability, keeping hope, and finding the meaning of life in this process.
How is this information relevant to AHS students? This Friday, November 18, Nick Vujicic will be coming to Ashland High School to present to students during their first period class. If you want to attend, you can ask your first period teacher if they are planning on taking your class to this event.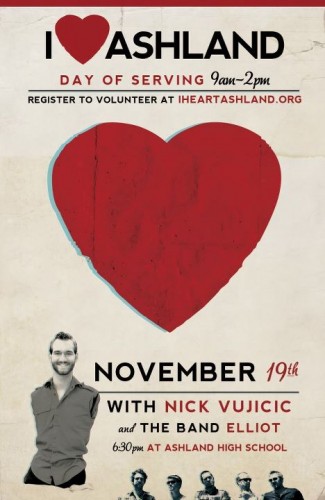 Nick's arrival has already sparked a great deal of interest throughout the community. Since 2008, The Heart Campaign has organized days of service all over Oregon. Located in Bend, Oregon, The Heart Campaign helps organize days of volunteering all over Oregon, Washington, Idaho, and California; it is part of The Cause, a non-profit organization. Partnering with churches, businesses, and non-profit organization in Ashland, on Saturday, November 19, The Campaign is bringing this model of volunteerism to town.
On November 19, hundreds of volunteers are anticipated to come together to serve the city of Ashland through various community service projects including cleaning up trails, landscaping the Ashland High School grounds, and helping at the Ashland Emergency Food Bank. I Heart Ashland is meant to meet the needs of the city and its people through painting, cleaning, beautification, food drives, and more. Nick Vujicic himself will be coming around to all the stations to help encourage the volunteers. This extraordinary day of service will end with a celebration Saturday evening at Ashland High School. Vujicic's speech will begin at 7:00PM with the musical guest, "Elliot".
I Heart Ashland is a once in a lifetime event for the small community of Ashland and is a great chance to witness the motivation brought by Nick Vujicic!
Links:
Nick Vujicic – http://www.lifewithoutlimbs.org/
The Cause – http://www.thecause.org/
The Heart Campaign – http://theheartcampaign.com/
Elliot Band – http://elliotband.com/
View Comments (1)