Brenda Paustian: Remembering High School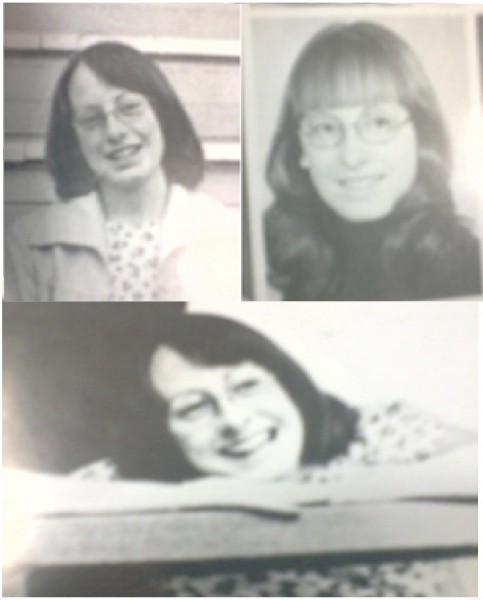 Sipping her hot chocolate, legs crossed at a student's desk in the back of her classroom, math teacher Brenda Paustian struggles to remember herself as a student at Ashland High School. Growing up in Ashland, Paustian attended Walker Elementary, the middle school, then known as Ashland Junior High, and graduated from Ashland High School in the class of 1974.
"I was not very coordinated," Paustian said when asked why she didn't play sports as a high school student. Ashland High at the time offered gymnastics, volleyball, and track for girls, all sports that involve coordination. According to Paustian, the sports teams in the '70s were hardly as good as they are now, however, she sees similarities like great team sportsmanship and positive attitudes from the AHS athletes.
Paustian participated in the highest level of math offered, which was one of her best subjects along with English and history. She was in computer club, math team, and was a Senior Class Officer for the student council.
Then, AHS offered few clubs and opportunities compared to what are available today. Girls commonly attended cooking, typing and sewing classes, while boys attended wood shop and auto mechanics. Elective classes were segregated between boys and girls, and there were no AP classes. Funding was not particularly fair during the time, boys' sports had higher grants. Later funds would be more evenly distributed between the two genders for extracurricular activities.
Core and elective classes were only three days a week: Monday, Wednesday and Friday. On these days students would be lectured, and a class would only last fifty minutes. On the other two days, students could come to school and do homework, science labs and activities. She called this a "delivery system for the classes," because it was an organized and efficient system for students. Not many kids went to college after graduating from Ashland High in the '70s. Most would go find jobs right away, skipping any further education. This is one of the biggest changes at AHS, judging on how today the majority of seniors go on to college.
"Back then, they were just high school plays, but now they're like professional productions," she said regarding the drama program at Ashland High School. Paustian said that plays were not as refined and organized as they are now, and that is what makes them so spectacular today. The theatre was small, the science building was only one floor, and there was no half-moon on the quad. Though the appearance of AHS has changed in some places, the atmosphere of the school is relatively similar to what it was while Paustian was a student. There was a quad on campus where students would spend their spare time, as they do today. The similarities makes Paustian feel right at home.
Paustian's classroom, in which she teaches Geometry, Algebra 2 Honors and Algebra 1A, was once the Business and Machinery room. She remembers different equipment such as adding machines and typewriters lined up along the walls, where there are now boxes of scratch paper and heavy algebra textbooks.
Paustian didn't always want to be a teacher, let alone teach at AHS. Shortly after graduating from Northwest Nazarene College in Idaho (she would later attend Portland State University and SOU), she traveled to Swaziland in Africa and to teach science and math to children for two years. This experience inspired her to become a full-time teacher in America.
Paustian taught for seven years in the outskirts of Boise, Idaho. "I like teaching students better than teaching math," she said. Her true passion is the kids she's teaching, and you can tell it's true by the dedication in her voice. Paustian's theory is that being a math teacher is a great and efficient way to teach kids.
In Paustian's opinion, teachers in Idaho didn't seem to care as much, in comparison to teachers at AHS. To her, Idaho was like a suburb where she couldn't walk or ride her bike on a daily basis.
"If I wanted to ride a bike, I was taking my life into my own hands." She couldn't do the things she enjoyed. After getting married at age twenty-five, she became pregnant and decided to move back to Southern Oregon.
"I thought this would be a really good place to raise a family," Paustian said. "It's a safe town to live in." She refers to Ashland as a fun place to grow up, with the lake, the park and friends she knew since she was five years old. She loves Ashland because it's its own town; it's not surrounded by big cities or lots of people, like in Idaho.
"The students here are really engaged with their academics." She thinks Ashland is a place where people are proud of their work, and kids want to learn.
After teaching for thirty-three years, most at AHS, Brenda Paustian is content with her career decision to not only teach math, but to teach at the high school from which she graduated. "I taught in other places, but Ashland High School was the perfect place to go to high school and to teach."
Leave a Comment