Brenda Paustian: Laughing Glass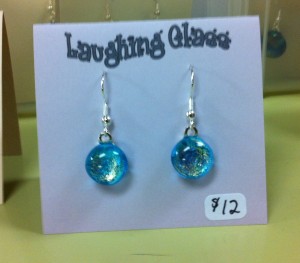 Ashland High School has a plethora of Artists more so than other schools, yet it is not only the students who are the Artist but the Teachers too. Brenda Paustian, one of the best math teachers we have, is also an astonishing Artist. She has always enjoyed art, never being truly able to accept her talent for due to her perfectionist nature. Also, with her outstanding Math and Science capabilities, art was always overshadowed, and few ever saw her ability more than common.
Two years ago a daughter of a close friend and colleague, Micheala Anderson, showed her stain glass jewelry that she learned at AHS from John Weston. This enthralled Mrs. Paustian and Tamara Anderson, mother of Micheala Anderson, so both of them decided to try and see how stained glass is made, and in the end they loved it.  Both made stained glass that year for Christmas as their secret Santa Gifts. Yet Mrs. Paustian found a deeper passion in stain glass and that mode of art.
Mrs. Paustian, a happy and bubbly person herself, known for her choir of "negative b… plus or minus square root," represented her good hearted nature from the name that she gave her glass that had grown from an interest to more than just a hobby, Laughing Glass. She named it so, for in the beginning when starting out, they never knew how the glass would turn worth keeping, but every time it came out of the kiln, it would make them laugh to see it no matter masterpiece or trash.
She does one faire every winter and summer, she says they can be quite "scary" from the intensity, but they are a lot of fun in the end, and especially when she does it with a friend. She spends a lot of her time on her stain glass. It is labor-intensive work and time consuming. For designing and the crafting first takes time, then it also take a long time for the glass to go into a 1,400 degree Fahrenheit kiln, which she now has one situated in her garage, to be fired for 12 to 15 hours. This process can vary depending on the amount products in the kiln and how long it will take it to slowly cool after it is in there. For there is a process of cooling, because of the class it take out too hot and into the cooler environment it will crack and all the hard work was a waste of time. Then after that the glass might need to be grinded buffed and then re-fired sometimes spending another 12 to 15 hours.
Her beautiful art spans from soup dishes to earrings and Sushi plates to candle holders. All dichroic glass letting the luster of the pieces sparkle in any light, always magnificent. Earrings are only $12, and make great gifts and personal jewelry every piece unique and its own, Sushi set range from $25 to $35. Mrs. Paustian is open and very outgoing and always would love to have anyone stop by if interested by her hard. It brings her such joy and pleasure when people can enjoy her art and love it almost as much as she does.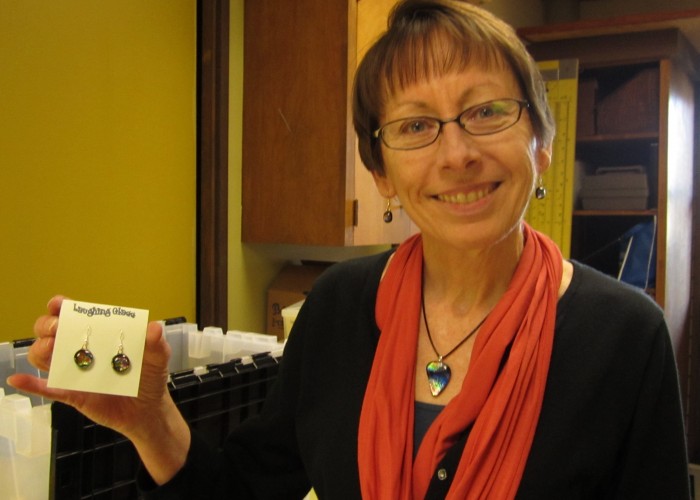 Leave a Comment