Summer Treats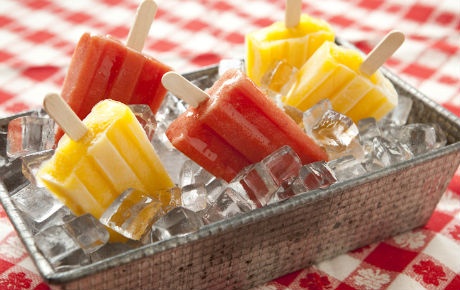 Mango Lemonade Popsicle
With the lack of ice cream trucks driving around Ashland, we are left empty handed. But fear not! This simple and refreshing Mango Lemonade Popsicle will keep you cool all summer long.
What you need:
Mango Juice
Lemonade
Sugar
Water
Aluminum foil
Popsicle Tray
Popsicle Sticks
Combine the mango juice and the lemonade into a mixing bowl.
Add warm water to a second bowl.
Add ¼ cups of sugar to the water and stir until dissolved.
Empty the water/sugar into the mango/lemonade mixture and stir.
Now pour the mixture into the popsicle tray, cover with the foil, and push in the popsicle sticks.
Pop the tray into the freezer.
Pull one out and live up your summer day with this cool treat!
Pomegranate Lemonade
Love homemade lemonade? Put a twist on this classic drink with the distinct taste of pomegranates!
What you need:
Water
Sugar
Lemons
Pomegranate juice
Empty 6 cups of water into a pitcher.
Add 1 cup of sugar.
Now squeeze in 2 cups of lemon juice (you can also strain the lemon juice).
Finally, add 1 cup of our key ingredient, pomegranate juice, to the mixture.
Stir thoroughly and chill it in the refrigerator.
Pour yourself or a friend a glass and enjoy!
Strawberry Smoothie
Wake up to a delicious smoothie. This simple and refreshing drink will become a staple in your summer diet.
What you need:
Bananas
Strawberries
Pineapple juice
Vanilla Yogurt
Vanilla Extract
First pour 2 cups of pineapple juice into the blender.
Add 2 cups of chopped banana.
Scoop in 2 cups of vanilla yogurt.
Next, remove the stems and chop up 1 to 2 handfuls of strawberries and drop them to the blender.
Finally add 1 teaspoon of vanilla extract.
Blend until thoroughly mixed.
Serve immediately and relax at home or take it on the go.
Leave a Comment