Turducken – A Step Forward for Thanksgiving Dinner?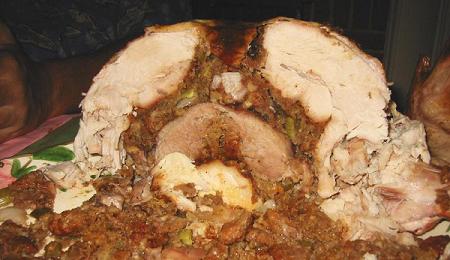 The word "turducken" evokes a range of sentiments in people, from curiosity to fear. While it is just another dish on the menu of many a family gathering and holiday, turducken is, in simplest terms, a de-boned chicken stuffed into a de-boned duck, all of which is then stuffed into a de-boned turkey. The resulting Franken-bird is a roast fit for a king — or a trash can, depending upon one's taste.
To make turducken, one must merely find the stomach to insert each bird into the other then fill in the remaining gaps. The thoracic cavity of the chicken, as well as any other extra space, is typically filled with sausage meat. For those who can only handle so much meat, a seasoned breadcrumb concoction will also suffice. The resulting mass of protein can be cooked either by roasting, braising, grilling or barbecuing.
Turducken's origin is not definitively known, but many proposed explanations exist. One claims that Cajun-Creole chef Paul Prudhomme of Duvall, Washington came up with the idea in 1983 for the town's Duvall Days Festival. Another conjecture is that Hebert's Specialty Meats in Maurice, Louisiana gave birth to the roast.
The concept of a roast comprised of more than one bird is not a new concept by any means. In the 18th century, the famed Yorkshire Christmas pie was a common meal for the wealthy citizens of England. In 1807, Grimod de la Reyniere published a recipe for a roast consisting of a bustard stuffed with a turkey, goose, pheasant, chicken, duck, guinea fowl, teal, woodcock, partridge, plover, lapwing, quail, thrush, lark, ortolan bunting and a garden warbler – a grand total of 17 birds, culminating in what Reyniere dubbed his "rôti sans pareil," or "matchless roast." Even the ancient Romans produced similar roasts.
Whatever view one adopts in the midst of the turducken bandwagon, the super-roast is not going away anytime soon. It has become so common in the Deep South that one business produces roughly 5,000 per week around Thanksgiving. The allure of turducken cannot be denied, and has excited interests across the globe from the days of Jane Austen to modern times. To see a turbacon (an item similar to Turducken) in action, follow this link http://www.youtube.com/watch?v=7Xc5wIpUenQ
Recipe:
Prep time: 1 hour (not including time needed to de-bone three birds)
Cook time: 4 hours
Yield: 12-14 servings
Need:
– Large roasting pan
– Metal skewers
– 10- to 12-lb. turkey, de-boned except for wings and legs
– 5- to 6-lb. duck, completely de-boned
– 3- to 4-lb. chicken, completely de-boned
– 2 c. prepared stuffing
– ¼ c. chopped pecans
– ½ c. cranberry sauce
– 4 T. butter
– 3 cloves garlic, cut in ¼'s
– 6 fresh sage leaves
– 2 T. fresh thyme leaves
– 1 T. browning sauce (to darken foods)
– 1 T. olive oil
– Kosher salt and ground black pepper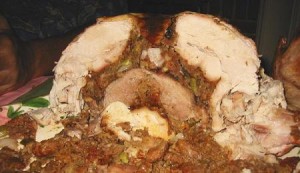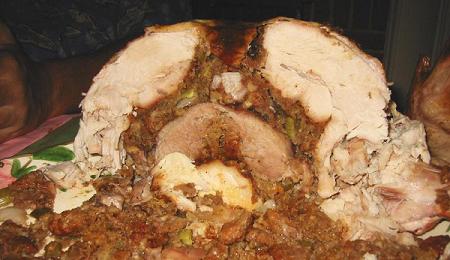 [countdown date=2010/11/25-00:01:01]
[dhtimer] until thanksgiving!
[/countdown]

Leave a Comment