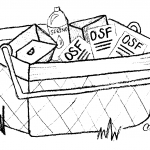 The Oregon Shakespeare Festival (OSF) is known internationally as one of the best Shakespeare Festivals around. Traditionally, every summer season, OSF has free Green Shows prior to the evening theater performances. Green Shows are approximately 35 minutes long and take place in the festival courtyard, also known as The Bricks, Tuesday through Sunday.
These shows are always entertaining and display all types of performances, such as martial art skills and lyrical dances. Each performance is unique and intriguing and will never cease to impress. Anyone is welcome to attend these shows; they are purely for entertainment and fun. To ensure your Shakespearean evening is one well spent, follow the quick and easy steps below.  Note: These steps can be simply modified to make a non-expensive, fun date as well.
1. Stop in at a local restaurant on the plaza and pick up your favorite dish to go. Pack it in your  picnic basket.
2. Around 6: 45 pm, stroll up to The Bricks and find a seat on the grassy slope.
3. Unpack the contents of your picnic basket and enjoy.
4. At 7:15 pm, the show will begin. Feast your eyes upon the talent.
5. At 8:00 pm, mosey on over to the proceeding Shakespeare play or walk down to a local restaurant for some evening appetizers and drinks with friends and family.
So, next time you find yourself wandering downtown on a warm evening, head to the festival courtyard on Pioneer Street to watch a Green Show! For more information about OSF you can visit OSF online. The Green Show calendar is also accessible from the OSF website, there you can view the schedule of performances.