The Three Musketeers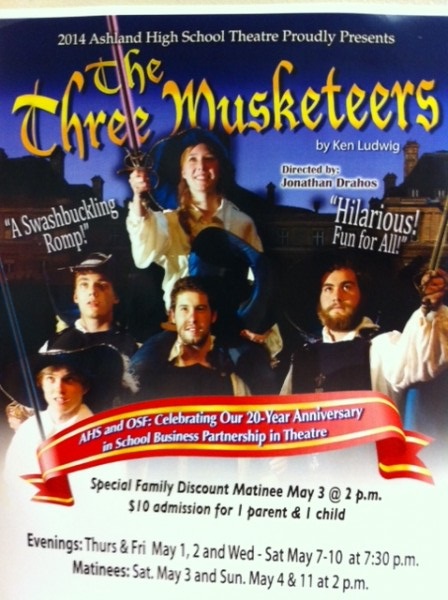 The drama department of Ashland High School has once again brought to life a capturing story. The Three Musketeers is a must see, a night of fun for all ages, full of swordfights, jokes, adventure, romance, and really handsome lead actors. Cry with laughter at this over-the-top comedy.
The Three Musketeers is the story of D'Artagnan (Jon Conelly), a young man just leaving home with his younger sister Sabine (Corrine Madox). The two travel together to Paris where D'Artagnan plans to join the Musketeers, the royal guard. On his very first night in town the hotheaded D'Artagnan makes three enemies and finds himself scheduled to duel all of them, and all three turn out to be Musketeers and master swordsmen. In a hilarious turn of events he befriends them all and together they go on many adventures. The Musketeers (Noah Yaconelli, Joseph Yaconelli, and Sam Gosnell) cause a ruckus wherever they go, and with their new companion D'Artagnan they aid the King of France (Michael Burt) in one-upping his enemy the Cardinal (Jeremiah Lieberman). D'Artagnan's sister Sabine also makes frequent appearances, proving herself as ferocious with a sword as any of the male characters and winning the hearts of the audience.
The Three Musketeers will be on the Mountain Avenue stage for one more weekend only. The remaining show dates are tonight, Friday and Saturday, at 7:30 PM, and Sunday at 2:00 PM. Tickets are $5 for students and $10 for general admission.
Leave a Comment