"I never want to have to tell a fourteen year old girl she has HIV… again. It used to be a death sentence." explains Allison French, the Ashland High health teacher. Back in the eighties, when Allison was working in HIV testing at a health clinic in the Bay Area, there was no medication for the virus, and little chance for survival. This experience was life-changing for French; it's what pushed her into teaching.
French was born and raised in Southern California, in a town called La Cañada, near Pasadena. Being a three-sport athlete and a social butterfly, it was hard for Ms. French to keep her grades in tip-top shape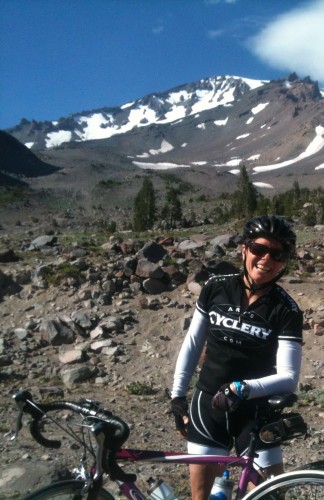 ; she claims she was a mostly B and C student throughout high school. She participated in soccer, where she was a midfielder and in volleyball, a back row player. In her favorite sport, softball, she played third base.
When she went to college at University of Colorado, she walked on to the softball field; however she disliked the intense competition. After one year at UC, French transferred to Cal Poly. Her love for sports has continued, and on the side she was a volleyball coach for eight years. During the time after college, she started working for a non-profit. She had always thought she'd end up doing that for health-science. French never thought that she would become a teacher. At her high school in California, health wasn't a subject that students were required to take in order to graduate. During a trip to the Shakespeare festival, she went to look at SOU. There she found out about health teachers.
French now absolutely loves her job as a health teacher. She says that it seems like all students really enjoy going to school here. The spirit that each class possesses makes her like all of her students in general. Her view on high school students is that it is in their nature to be self-absorbed, because they're trying to figure out who they want to be and make plans for their future, so it is necessary for them to evaluate themselves. She thinks that each student has the potential for "true creativity in all forms".
With seventeen years of experience, she likes to teach by the philosophy that if you reach out to people and tell them what's going on in your life, they will step up. She has recently incorporated lessons on psychology of the teen brain, stress management, and more interactive activities into her lesson plan.
On the topic of nutrition, French was a vegetarian for thirteen years, and is a big fan of the Ashland Food Co-Op. As far as protein goes, she tends to "lean towards lean meats," to get enough to fuel her body. She now asks herself "what does my body need?" so she can have a balanced diet.
Ms. French, the beloved Ashland High School teacher has lots of experience in health education; and is eager to meet new students this year and see familiar faces from past years. Pay her a visit in Room 211!