A Letter from River Davis, Studying in Japan
Hello, Ashland High School. It's been a while! My name is River Davis, and I have decided to make things interesting this year by moving in with my Uncle and Cousins in Ofuna, Japan. My story is a little bit different than the typical foreign exchange.
Instead of going to Japan through an agency with their orientations, introductory summer camps, support network, accreditation, and substantial financial compensation, my family and I decided to take some of the artificiality out of the situation and just move me to Japan and enroll in the local school. Living with my Uncle, Aunt, and two elder cous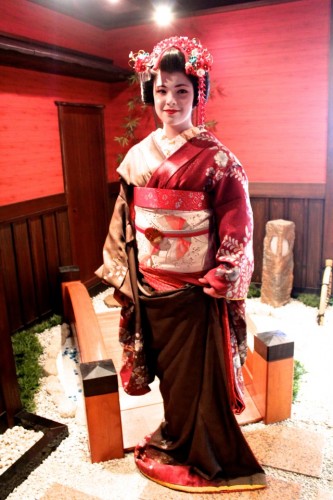 ins was very comforting for me, because I have known them my whole life.
Because I have lived in Ashland my whole life, it took me around five months to really get accustomed to the culture, big-city life, and language. Everything has come to feel natural though now, and it feels as if I could have been born here, instead of in America. Life in Japanese schools is not at all what you would think. Japanese students are not all straight-A, mathematical geniuses like I thought they would be. The Japanese High School student generally studies very hard before tests, but the majority of energy here goes to Bukatsu (after school sports). Tennis for example, plays three-and-a-half hours after school, and we usually play around six hours on the weekend. I end up leaving my house at 8:00, and come back, exhausted, around 7:30 every night. Some hard things about Japanese schools are school uniforms, and a general lack of freedom (no outs, or choosing classes, or open-campus lunch).
Despite the rather strenuous schedule, the Japanese High School students are amazingly friendly and open to strangers. We always find time for fun on the weekends. I have had so many wonderful experiences here such as navigating my way through the American navy base to take a math exam, learning Japanese cooking from my Aunt, going shopping in Tokyo with my friends, ordering delivery sushi and eating vending-machine ice-cream, going to a Ramen-museum, trying to find my favorite Japanese author Haruki Murakami, and traveling all around Japan to visit all the different family I have here.
This experience has changed me more than any other year of my life. Not only am I completely comfortable speaking Japanese, but the personal development, relationships I have strengthened with my family, new friendships I have made, improved recognition of the world, and greater independence I have gained from starting a life in a foreign country have made this year an incredible opportunity.
Leave a Comment