Tech Week for Harvey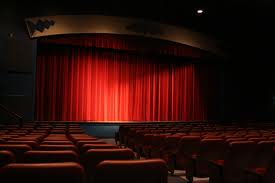 Ashland High School's production of Harvey will be opening at the beginning of March, and things are getting busier for everyone involved. Starting last week, about 1 week before the first preview, Harvey's "Tech Week" began. Tech Week is when actors and technicians, who have been working separately up to this point, finally come together and work at the same time.
Most technicians, depending on their position, spend many weeks before Tech Week getting their area of work ready. For example, David Pederson has been working tirelessly with technicians to build the set. Those on light crew have been hanging, aiming and focusing lights. The Sound Designers have been collecting, recording and editing sound effects and music. Much, much more has happened up to this point, and these examples only show a small portion of the work that people do.
During Tech Week, technicians get to integrate their work into the show. They also make hundreds of changes to the work that they have already done. Because the actors require very little direction after this point, a majority of the focus is aimed at (as the name may suggest) the tech. Any one of the crews may ask to hold the show or go back so that they can fix or perfect something that they do. Because this period may last for only one week, the rehearsals are much longer than they are normally. Almost every day, rehearsals start after school and end around 9:00 or even 10:00 at night. It is a very time-consuming effort and it requires immense amount of cooperation between everyone in the production.
The result is a smooth and polished show. Once the show opens on March 1st, the tech work has been tinkered with and perfected. The intense work done during Tech Week produces an entirely transformed show, thanks to the work of everyone involved in the production.
Leave a Comment