Health Center, Infested?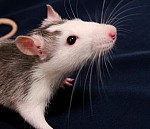 Rats in the Health center? Apparently so. Over the summer rats were living in the ceiling of the health center and storage room. They  chewed  their way in by means of the HVAC vent where they then ate strawberry flavored tongue depressors and an entire box of granola bars. Since nobody was in the health center during the summer except for occasionally the janitor, the rats had free run of the place. When school started up again staff was welcomed back with a storage room in tatters. Little pieces of chewed cardboard and things knocked off shelves were laying spilled on the floor and little footprints were everywhere, proof of the rats' visit.
Why were they there in the first place? We were able to interview Rob Parks, the IPM coordinator, who said "they chose the Health center because it was the only place to find food and fresh water during the summer. Usually rats live off food scraps from the cafeteria, but since it was summer no students means no food." Rob also stated that these were "roof rats" and they've had similar problems at Willow Wind.
Rob and his team caught four of the rats and blocked their way of entry so no more could follow. Rob is also currently working with AHS staff on storing food properly to help the school remain rat free.
Leave a Comment