Aristotle and Dante Discover the Secrets of the Universe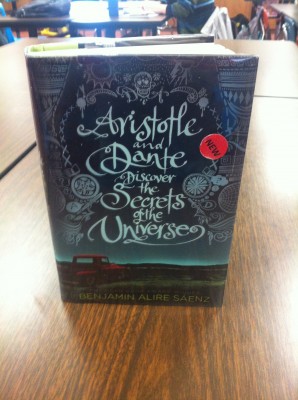 Aristotle Mendoza is a pretty average and angsty fifteen-year old. No friends, no social life, nothing to do all summer, and sometimes he feels as though simply being fifteen is the worst tragedy of all. He isn't annoyingly dark, but really quite relatable for anyone who has felt lonely and bored. Aristotle and Dante Discover the Secrets of the Universe by Benjamin Alire Sáenz is an honest book about the awkwardness of adolescence. The book has won the Stonewall Book Award, Printz Honor, YALSA Best Fiction for Young Adults and the Pura Belpre Author Award. Ari's humorous narrative pulls you along and soon it is impossible to put this book down.
The sad and lonely part of the story doesn't last long. One day at the community pool he meets Dante. At first, Dante Quintana seems to be his opposite: charismatic and extroverted. But the two boys soon become inseparable friends. Later that summer, their friendship is tested when Ari saves Dante from being hit by a car, but ends up in the hospital himself with both legs broken. Ari isn't prepared to talk about it for several weeks, and before they can figure out the changes in their friendship, Dante has to move away across the country for the school year. They send a few awkward letters while apart, but the terms of their friendship remain uncertain until Dante returns the next summer. Together again they clumsily navigate growing up, try to figure out their parents, learn to drive, experiment with drinking and smoking, try kissing girls, then try kissing boys, and stumble upon some of the secrets of the universe.
The writing is simple, and it would be easy to finish this novel in a matter of hours. The rapid dialogue can be hard to follow in some spots, but story is very straightforward. This fast-paced novel about friendship is a must read, and the twist ending will keep you thinking about it for weeks.
Leave a Comment