2010 AHS Talent Show
By Taylor Patterson, Erin Keoppen, and Delaney Swink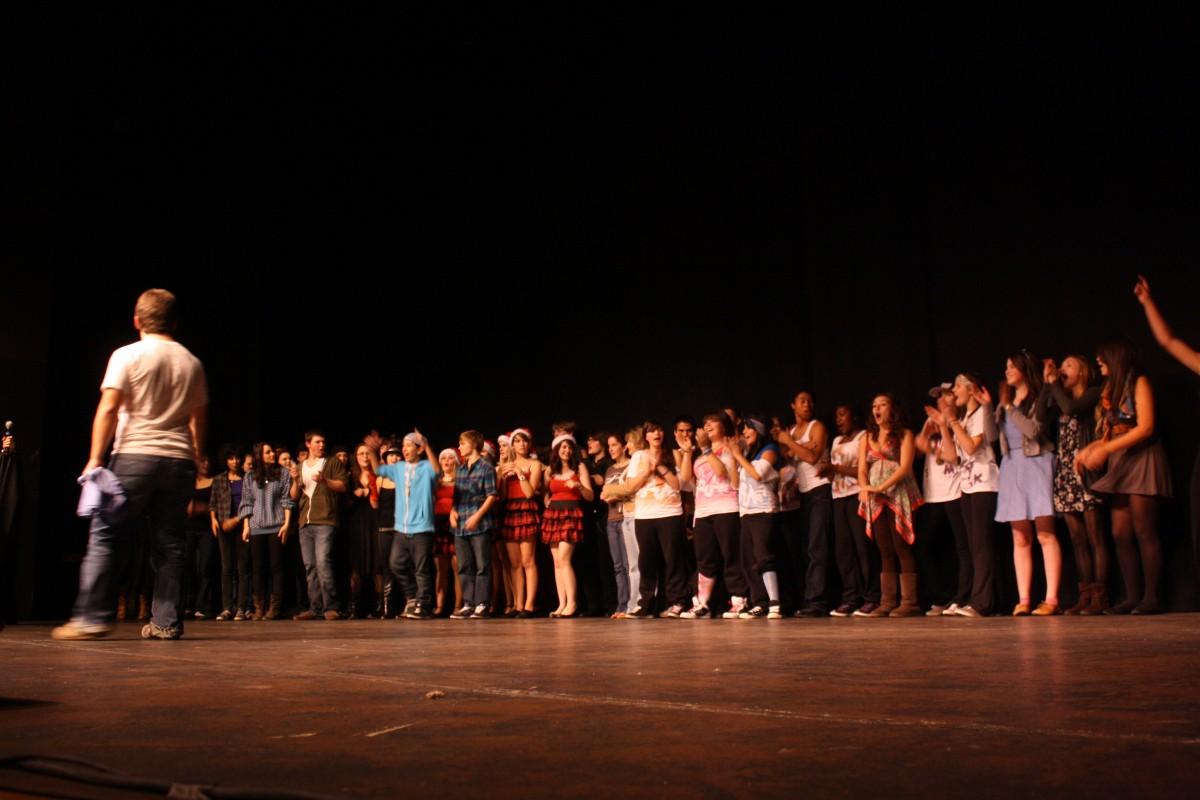 After waiting outside in the 40 degree weather, spectators were hustled into the warm Mountain Avenue Theater to find seats for Ashland High School's annual Talent Show. Well worth the wait, the night proved to hold stunningly fresh and intriguing performances as the bravest of the AHS student body stepped onto the stage.
The first act opened with curly-maned yo-yo prodigy and 2007 Talent Show Champion, Dylan Schink's fourth and final performance, which incorporated multiple yo-yos and wild tricks. Other returning performers included Turpentine with their original song "Roadblock," written by lead singer Wolf Black; and former champion Lyric Tucker showing off her stunning voice with Sara Bareilles' "Gravity."
Among the many memorable performances, there was a last-minute flamenco guitar solo by Andreas Lafaurie-Galer. Nick Chouard, of Southern Oregon's Got Talent Champion Random Sound,  played "The Girl Who Does Yoga," by Damien Rice.
Following intermission "Living Sound" showed the crowd the impressive voice of Savannah Williams and musical superiority of Conner Stanek, Henry Basilbird Cislo, Nick Hammond and Julian Jones, on his awesome electric violin. Other highlights of musical collaboration included Laurel Sager and Rihanna Piddington with a striking rendition of "Go to Sleep Little Baby" from O' Brother Where Art Thou.
Numerous more unlikely talents were escorted to the stage as well, like Katie Walden and Maureen Page… or rather Juicy Slam's rap, and the steady arms of techie Justin Aziere who held the mic for senior Kyla Dammann as she sang a beautiful rendition of Noah Gunderson's "Poor Man's Son."
And the winner is…
In the end, junior Nick Shulters and sophomore Sarah Cotton took second place for an outstanding mashup of Disconnect/Waiting for the Dawn by The Hanneke Cassel Trio and the pop hit "I'm Yours" by Jason Mraz. Sarah said she was nervous, because she had never played for such a huge crowd before. She was happy for the opportunity for her "friends to see her passion and for everyone to have an understanding of this huge part of her life." It was an experience she will "never forget."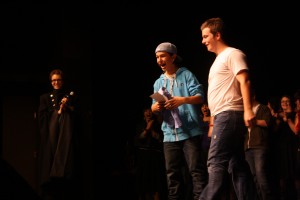 Freshman Tasker Crow claimed first with a moving performance of traditional Native American chanting and drumming. Crow revealed that he was not as nervous as one might expect. "I've performed in front of way more people, like at pow-wows," he said. "But I was really happy when I won first place; I didn't think I would."
As the night drew to a close, one thing was apparent: Ashland High School has an unbridled amount of raw, refined, and ripening talent. Keep an eye out for each and every one of these remarkable individuals so you can give them a pat on the back, get their autograph before they make it big, or possibly, if we're lucky enough, get to see them next year at the 2011 AHS Talent Show.
Leave a Comment