Senior Projects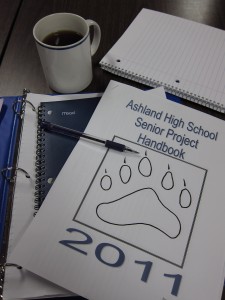 As a requirement for graduation, a senior project can be either a senior's biggest nightmare or a life-changing experience. For seniors and many juniors, the guidelines are fairly familiar. But for underclassmen, this may seem like a daunting challenge akin to the 100-hour service learning credit.
A senior project is a "mentored 20-hour project of community service or personal interest to test ideas, improve skills, or follow one's passion," senior project coordinator Russ Johnson stated. After the project is completed, the project is presented to a panel of community members who can give feedback and can ask questions.
Russ Johnson has been the official senior project coordinator for Ashland High School for four years; troubleshooting projects, offering guidance and ideas, and checking in occasionally with each and every senior. His job is essential to assure the machine runs smoothly. "It allows me to use the life experience I have to help with projects," says Johnson.
With near-limitless possibilities, what is essential to a successful project? "Designing a project that truly is something you care about," Johnson says. "Why is it important to me? Also, your relationship with your mentor can make or break a project."
Johnson considers successful projects to be ones where you can say "I'm glad I did that," afterwards. This doesn't mean that you necessarily want to pursue a career in that field or even enjoyed your experience with it; it means the experience was valuable to you.
Successful projects in the past:
-Training a mule
-Documenting a journey through rehab
-Clothing drives
-Mission
-Making trailer for family
-Building a Scull (boat)
-Tutoring
http://www.ashland.k12.or.us/Page.asp?NavID=747
Leave a Comment