Ding Dong, the Rings are Here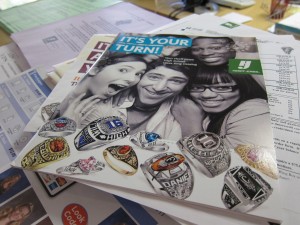 As the 2011-2012 school year ages, seniors start to ask for teacher recommendations, apply for scholarships, and this week, look into investing some energy into the Class of 2012 spirit. This week, seniors were given the option to purchase a class ring from Herff Jones. This class ring can be completely personalized; you choose the design, the metal, the finish, the stone, and all of the engravings and decorations on the sides. The prices range from 279.95 to 699.95, with premium bonuses for additional fees. Class rings can be ordered using the packets that can be found in the main office as well as on Herff Jones' website at oregongraduateservices.com. A 75 dollar deposit is required and payment plans are available. The class ring order can be changed or cancelled 72 hours after being placed without receiving a penalty; however, changes and cancellations done after the 72 hours will result in a 75 dollar make up fee or a loss of the deposit.
If seniors bought a class ring on September 28, the will receive a free senior t-shirt and lanyard.
Leave a Comment