Chautauqua Poets and Writers Presents Eavan Boland
Have you been wondering what the intellectuals of the Rogue Valley are doing this Thursday night? Do you now that I mentioned it? Well, this Thursday night Chautauqua Poets and Writers will be hosting Irish poet Eavan Bolandin a 7:30 lecture at the Mountain Avenue Theatre. So, be there or be an academic square.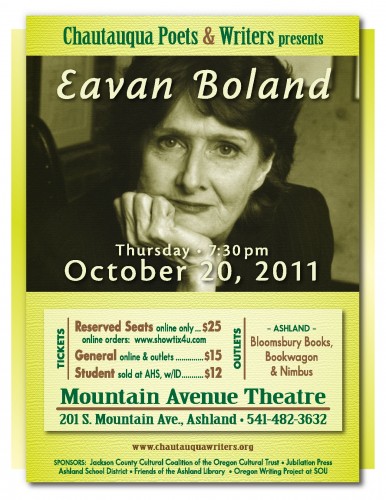 Perhaps you don't consider yourself wordy or hip or any other slightly elitist adjective that would bring you to a poetry reading; however, the event provides a more mature setting for anyone who enjoys the spoken word, the written word, or even just… the word. In addition, various AHS English teachers will be offering extra credit for attendance, and you may even find yourself enjoying a pleasant evening of listening to an Irish accent in the theatre.
Chautauqua Poets and Writers is a non-profit, funded locally and run by volunteers wishing to spread the beauty of literature beyond the SOU and AHS vicinity. This year, Phoenix, South Medford and North Medford High Schools have also become involved in the Chautauqua event. In preparation for the Thursday reading, these high schools, including AHS, will read Eavan Boland poems in the announcements and a smaller group from each school will attend the Friday morning Boland workshop.
Tickets are available at the AHS Main Office, Bloomsbury Books, Bookwagon, Nimbus or at www.showtix4u.com.
Leave a Comment