Typewriting Champs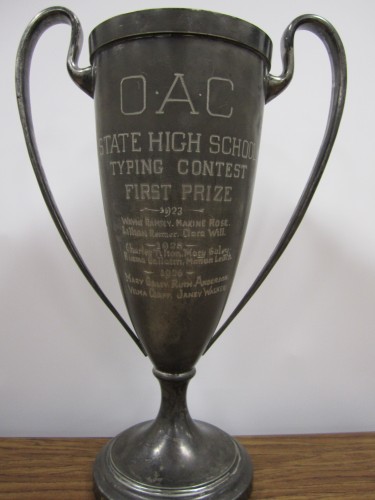 Imagine life without computers, internet sources, spell-check and auto-correct. What if the computer had never been created and Microsoft Word documents had never existed? Handwriting was becoming tiresome, which was why typewriters were the futuristic writing machines over a century ago.
The first typewriter was invented in the late 1860's by a man named Christopher Sholes and variations of the original were used up until the 1980's. Until then, Ashland High School had typewriters and the students used them. Not only did the students use them for school and work, but they also had state competitions over who could type the fastest.
In the 1920's, AHS brought home the State Champion Cup for winning at least three times. Ashland was undefeated except in 1924 when Salem beat Ashland by a mere 2.4 words. Throughout the competitions, students from Ashland left their rivals in the dust, typing as fast as 70 words per minute. In 1926, Mary Galey won first place for typing at an astonishing 80 words per minute.
The champion cup now sits in Mr. Gabriel's room, collecting dust and tarnishing as the years pass. It used to be in the office's cabinet for miscellaneous awards, but was soon put in the dungeon for storage when the cabinet got too full. Now the typewriters have been replaced by computers, and past victories were forgotten.
Leave a Comment