Audition Tips and Techniques for the Spring Musical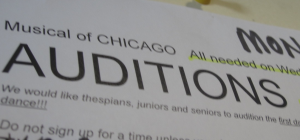 Tips from Betsy
The spring musical auditions are just around the corner (November 15 -17 ), and many prospective actors, dancers and singers are jittery with nerves.  Here are some tried and true tips for the upcoming rounds of auditions for Chicago!
Be prepared: always know your audition materials at least two weeks in advance – learning a song the night before auditions does not impress the director.
Choose a musical theater song (a song from a musical), and act through it, rather than just standing in front of the director and singing.
If a monologue is required (not the case for Chicago), choose one about a minute in length by a character close to your own age and that you can relate to in some way – make your performance believable.
Sign up for an audition time and show up to your slot at least 15 minutes early.
Fill out an audition form (found on the drama board between the theater and the Rose Room) in advance, not right before your audition.
Create a resume if you can (check online for examples).
Come to both the singing and dancing auditions, and be ready to learn a short routine in the dance auditions (wear comfortable clothes/shoes, though character shoes are acceptable).
Be confident, but not cocky.  Confidence and apparent ease in auditions (even if you are scared out of your mind!) is impressive to the directors/choreographers
If things are going badly, don't stop, keep going!
10.Breathe, smile and have fun!
View Comments (1)