Volleyball 2013 Season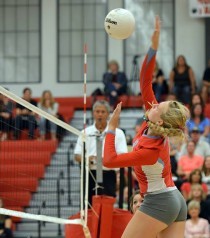 The Ashland High School varsity volleyball team is off to a great start. This season has some big changes from last year like a new coach and many new varsity players. The volleyball season started in the beginning of September and will end near the end of October. On September 17, Ashland took on Crater and swept through the first three sets, winning the game. "Tonight we held our momentum and played as a team the whole way through," says head coach Robin Akpan. The season looks like it is going to be a successful one, led by team captains Hannah Borgerson (Senior) and Jordan Tilley (Junior).
Kamana Akagi will coach Junior Varsity Two. The girls lovingly calls him Mana. Mana is currently attending Southern Oregon University and has a long history of volleyball. He grew up in Oahu, Hawaii and played the sport throughout high school. He also played sand volleyball for two years as an outside hitter. This is Mana's first time coaching, and he's hoping to bring his team together and improve his players' individual skills.
Last year we had to say goodbye to more than half of the varsity team members, but this year we got to say hello to some new and powerful players. This changed the dynamic of the team; they'll have to adjust to playing with new people. Varsity coach Robin says that they are taking big steps in finding their consistency.
Junior Varsity One plays at home almost every Tuesday at 5:45pm. Varsity then follows at 7:00pm. Be there and support your Ashland Grizzlies.
Leave a Comment