How to be Seen by College Coaches
For many dedicated high school athletes, playing their preferred sport in college is a vision they have in their mind; the hard part is making this vision reality. Surely, being in the headlines and receiving honorable mentions all throughout one's high school career will spread one's name around the community and, if you're really lucky, catch the attention of a college coach. However, the biggest and most common mistake high school athletes make is not reaching out enough: believe it or not, college coaches want to hear directly from YOU!
So, how do you make yourself noticed?
1.) College Showcases:
An effective way expose yourself to college scouts is to showcase your talent at a College Showcase. Many sports have tournaments specifically setup for scouts to attend and asses your teamwork and/or individual skills and determine if you're a good fit for their school.
2.) I.D. Camps
Another great way to get yourself seen is by attending camps held by colleges you are considering attending. Dates of I.D. camps can be found on the schools athlete page, along with contact information of the coach, which brings me to my last suggestion:
3.) Contact the coach directly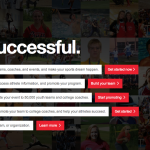 The best way to guarantee attention from your desired college team is to directly email the coach. This email should be formatted in such a way that they are given the name of your school, a brief resume of your athletic and academic accomplishments accompanied by your GPA, what you wish to study at their school, a schedule along with locations of any of your upcoming games or tournaments and your contact information. If you really want to make an impression on the coach, attach a link to your athletic profile.
What is an athletic profile?
An athletic profile is a profile of yourself as an athlete and student. This profile will include basic information such as the sport you play, your height, weight, age, high school, GPA, an album of pictures and videos and  your athletic awards and accomplishments. This profile is a key component of being exposed to thousands of coaches.
What site should you use to create this profile?
There are many sites out there that allow you to make such a profile. One of the easiest and most effective sites to create this profile is CaptainU.com. CaptainU makes it easy for all student-athlete of a variety of sports to make a profile for college coaches to view your resumé.
Now that you've got the information and tools to make yourself visible to college scouts and coaches, go out and make yourself seen!
Leave a Comment