Ashland's Very Own Bodybuilder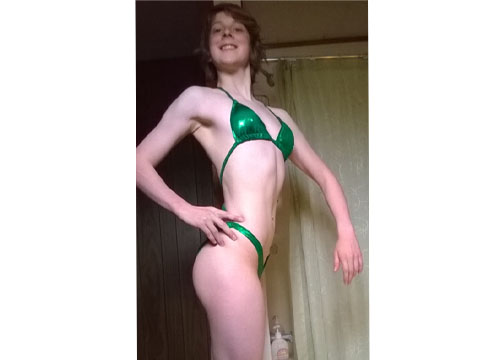 When many people think of bodybuilding they think of large men who had just a few too many steroids with their Wheaties. Ashland High School has their very own bodybuilder, but she doesn't fit the stereotypical mold. Autumn Henderson-Brazie is a junior at AHS, and she is a bodybuilder.
Three years ago Henderson-Brazie was was an overweight eighth grader. After a basketball injury she just stopped taking care of her body. One day she "looked in the mirror and didn't like what [she] saw". Her first step towards a fitter life was taking on the Insanity Fitness Program. Soon Henderson-Brazie amped up her diet, and really tried to look at what she put in her body. After staying away from basketball for her freshman year, she tried out for the team her sophomore year. She entered the season, and then her career was once again derailed. Henderson-Brazie got a concussion, and could no longer play basketball.
After the concussion Henderson-Brazie wanted to stay active, but she wasn't allowed to return to basketball. Soon she took on something new. She began lifting weights. Last year was Henderson-Brazie's first full year lifting weights. She even got a personal trainer. Christian Guzman, an online trainer, has helped Henderson-Brazie with her entire lifestyle. Currently she eats around 1,500 calories a day. Being 2 weeks out from her competition, "razor blade" precision is needed, so everything she consumes is weighed out by the gram. This dedication to all details leads Henderson-Brazie to call bodybuilding the "ultimate sport".
Coming up soon will be Henderson-Brazie's first competition as a bodybuilder. On May 17, she will be competing in a event run by the National Physique Committee (NPC) Oregon Iron Man in Lincoln City, Oregon. She will compete with a stage weight of 120-125 lbs in the Figure Division 5' 8" and above. In this division it not about muscle mass, but rather about physique. According to the NPC website, Figure is judged by the criteria of "small degree of muscularity with separation, no visible striations, overall muscle tone with shapely lines, overall firmness and not excessively lean Full general assessment Healthy appearance Make-up Skin tone". The competition consists of an individual routine, called a "T Walk", and a series of Quarter Turns used to compare you with the other competitors on stage.
Henderson-Brazie said there are a couple downsides. The mandatory posing suits that the athletes wear on stage can cost anywhere from $120-$1000, and the high heeled shoes have to be a minimum of 4.5 inches. A spray tan, manicure/pedicure, full stage make-up, and hair are also an integral part of the overall presentation.These downsides aren't enough to deter Henderson-Brazie reaching a goal that is three years. Bodybuilding is not easy. "It encompasses your life" she says. It is more scientific than many would think too. It is still about strength, but is also about poise and finesse. If you see Henderson-Brazie wish her luck as she embarks on what is hopefully not her only bodybuilding venture.
Leave a Comment